The 3 Best Portable Photo Printers
Make memories and then print them out on the go.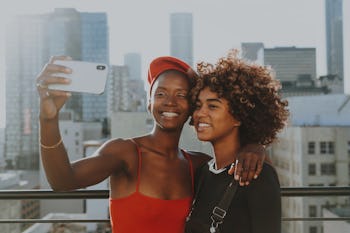 Pexels
When you take a ton of pictures on your phone, sometimes you want to print out your favorites and keep them with you. There's no easier way to do that than with a portable photo printer. There are plenty out on the market that can help you print out the best shots you want to keep and potentially decorate around the house with, and they're affordable at that. So don't wait to take your pictures to a photo lab to get them all printed. Do it right where you are with these printers, the best we were able to find.
The Prynt Pocket is an attractive little contraption that comes in three colors. You can turn your smartphone into a fun little printing station that will print your favorite pictures in just 30 seconds. It doesn't use ink and the photos are printed directly onto ZINK Sticker Paper, which lets you peel off the adhesive back and put up your photos anywhere you want. Never have to wait to get pictures developed from a film camera again and carry this cute little portable printer with you wherever you go.
One of the most trusted names in photos, Kodak, has a portable photo printer that you'll love to use. It's matte black, works wirelessly, and uses a printing method for photos that dry instantly. You can opt for black and white or color, and it fits in your pocket. Just sent your pictures from iOS or Android straight to the device, and you can go from there. Never have to miss out on sharing a moment with your friends or loved ones ever again.
Everyone knows how Polaroid pictures work. The king of instant photos is back with this portable Polaroid printer. Just connect a smartphone or tablet and you can print any of your photos you want. It uses ZINK Zero Ink printing tech and prints out photos on sticky peel back prints so you can stick them anywhere. It's also compatible with the Polaroid mobile app, which gives you a wide variety of editing options. You can toss it into a backpack or bag and go, making it perfect for any weekend adventure.