The Best Travel Backpacks for Men
Pack your things and head out on an adventure.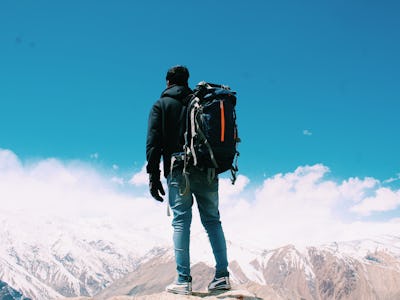 Amazon
Going on an adventure? Or maybe you just need an overnight bag. Either way, a rugged new backpack is always a great idea to add to keep in your closet. Whether you go all-out with a bag that has plenty of compartments and style, or you prefer to go more slimline and incognito, there's a wide selection of great backpacks out there that should help keep you headed on your way to your destination, wherever that may be. Just make sure you've got everything you need when you start packing!
This multipurpose backpack can also be used as a duffel bag, is made from Oxford cloth, and is water-resistant to make sure it can go everywhere you go. It has a side main bag structure with two front pockets, a mesh pocket on the side, and a laptop compartment in the front. It's also reinforced to prevent tearing. It comes in a few styles, and it's large enough to accommodate just about anything you want to throw in it. Plus, Kaka provides one year of warranty so if anything goes wrong, you can get a new backpack or a refund. It looks like it could get you through just about any situation, too.
This brightly-colored backpack comes in several hues, is waterproof, and made out of nylon. It's also durable and comfortable, with mesh panels to keep you cool. It can hold 40 liters of items, with 4 compartments, a laptop area, 2 side pockets, and 2 hip pockets as well. It can even be used as a carry-on if you like. Its material is specially crafted to stop rips as well, which makes it a convenient option to take on trips where you might accidentally get it caught on something, like jagged rocks or tree branches. It's sturdy, and you'll be stylish with it on your back!
This massive backpack should have plenty of room for anything you want to carry around with you. It has 50 liters of space so you can carry around just about anything you may need, which makes it quite possibly the only thing you might have to take anywhere with you. It comes with a waterproof cover, for the rain, plenty small and large pockets and external attachment points, and straps to keep things in place should you need to hold water bottles or other important supplies. If you need space and durability, this is a great choice.