The Best Insoles For Standing All Day
Treat your feet with these comfy insoles.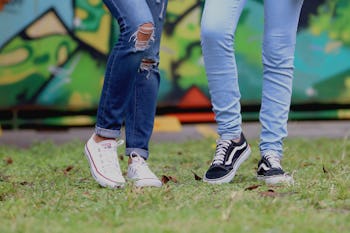 Pexels
Spending all day on your feet can be extremely uncomfortable, even if you have great shoes. Sometimes, you need a little extra oomph to get you through the day. That's where these insoles come in. If you need some help getting through your day without pain at the end of it, consider sliding these insoles into your shoes to see if it makes a difference.
Grab these antimicrobial shoe inserts for comfy cushioning, arch support, and flexibility that'll move with your feet as you go about your day. They're easy to trim to fit your shoe, and help fight odor and bacteria thanks to to their top fabric that also helps your feet stay cool. Plus, their cool blue coloring is a fun addition to your shoes, if that matters to you.
These rugged insoles are designed for people who work all day and stand on hard surfaces. The massaging gel inside will fit inside sneakers, boots, or just about anything you need to throw them in. They should put a spring in your step and alleviate pressure you accumulate from standing throughout the day. And they're Dr. Scholl's, so you've got the power of a well-known brand on your side.
These durable insoles are professional-grade, made for extreme comfort for anyone spending most of their day on their feet. They'll conform to most shoes you already own as well, so you don't have to go out of your way to wear special footwear if you want to have a little extra support from day to day. They're great for regular foot pain, arch pain, and even pain derived from plantar fasciitis.
These may be some of the coolest insoles you've seen. They're recommended for helping out those who suffer from a wide variety of ailments, including plantar fasciitis, high arches, pronation, flat feet, and more. They're also fantastic for offering additional support for anyone who's spent more time than they'd like on their feet during the day. Better yet, if these don't work out for you, you can send them back in for a full refund.