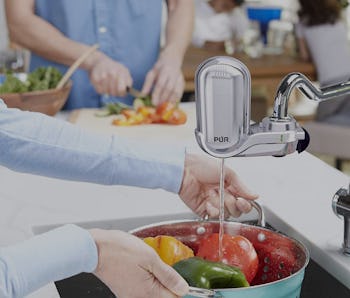 Innovation
3 Best Faucet Water Filters for Your Home
These user-approved faucet water filters promise to make tap water far more tasty
Amazon
Is there anything more refreshing than a glass of water, poured fresh from a faucet filter? It doesn't matter if it is in the middle of a blazing hot summer day or the dead of winter—filtered water from the faucet is the best thing to satiate your thirst. While in most parts of the United States and the rest of the first world countries having clean water is a reality, that doesn't mean we can necessarily get away without drinking filtered water. Tap water is technically considered generally safe, especially if it's sourced through a municipality. However, even though it is generally safe, it doesn't mean it is free of all contaminants. Contaminants can come from several sources—animal or even human fecal matter, nitrates used in fertilizers seeping into the land around the water supply, or even chemicals from spraying crops. Even the pipes that bring the water from the source to your home can be a culprit. This is why filtered water is a safe way to go. So you can get the best filter to get the job done, here are some of the best faucet filters to help safe space in your fridge and keep water nice and clean.
This sleek and shiny faucet water filter will look great in any kitchen, but before you get too invested in it, it doesn't necessarily fit all faucet types (you'll have to read up on if you faucet fits the bill). But if your faucet can handle this design, the PUR faucet water filter system is an effective one. PUR is certified to filter and reduce over 70 contaminants, including chlorine and 99 percent of lead. It also has an LED indicator to let you know that your filter itself needs a change. Don't believe us? over 3,600 Amazon reviewers gave this faucet a nearly perfect five star rating.
This faucet water filter which reduces sediment, chlorine, cycts, lindane, benzene, asbestos, mercury and lead, according to the product description for the DuPont system. The faucet water filter has a digital display that clearly shows just how many gallons it has filiterd for you can an accurate read on the filter life left in it. Designed to fit most faucets (though, may need an additional adapter) this faucet water filter comes in chrome, white, and brushed nickel so it can match your kitchen seamlessly.
Available in chrome and white, the Brita faucet water filter has a helpful indicator that goes from green to red to let you know when it needs to replaced. Replacing this filter is easy with a 1-click transfer and should be changed generally every 4 months for optimal performance Speaking of performance, this filter sifts out 60 contaminants such as 99 percent of lead, chlorine (taste and odor), benzene and asbestos contaminants (though not every house is at risk for this last one.