The Best External Hard Drives 2019
Back up your most important files with the best external hard drives on the the market.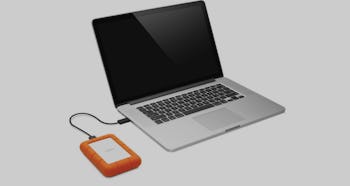 Amazon
If you're not a tech savvy person, an external hard drive seems like a frivolous and somewhat mysterious expense. But think about it pragmatically; our entire lives are on the internet. From memorable moments captures to yearly taxes, we have important digital files that actually mean a lot to us. And while laptops and computers have the capacity to house such important files, that space runs out quickly. You don't want to be left deciding between saving your wedding album or large legal documents. With an external hard drive, you get extra space to store all of it—and make it easy to transfer to anyone who needs access to your files. So when looking for the best hard drives in 2019, consider that you want space, speed, and simplicity. They are also ideally lightweight enough to carry around, and sturdy to stand up to travel. Here are a look as some of the most highly rated and favored best hard drives of 2019 on the market right now.
If you're in need of just a little extra space for your music or gaming, the Seagate Expansion Portable External Hard Drive might be the ticket. With over 11k reviews, roughly 70% of them gave this a a 5-star rating. Easily store and access 1TB of content on the go, as it is compatible with Windows and uses an extremely simple method of "drag and drop" files for a speedy upload. There is no special software required and it is small enough to be carried about. If you're in need of more space there is a 2TB model for $60 and 4TB model for $90.
If you're looking for another stylish way and compact way to store your images and files, this slim 4TB hard drive is just the ticket, available in 4 different colors (red, black, silver and blue) and a range of drive space, this external hard drive is compatible with both PC and Mac devices. To use, all one has to do is plug this external hard drive for Mac and Windows into a computer with the included USB 3.0 cable. Then you'll be able to back up files with a single click. this hard drive also allows you to schedule automatic daily, weekly, or monthly backups but reformatting may be required for use with "Time Machine." Otherwise, this is the perfect device for creatives on the move.
Toshiba products are great for people who want a decent product on a dime. Typically, they are economical and get the job done. This sleek little hard drive is available in four styles and 5 different sizes from 500GB to 4TB. Along with adequate space to download and store all of your files, this external hard drive also comes with security software. It helps prevent just anyone gaining access to your files, which is super important is personal documents are on there. Over 4,400 amazon reviewers gave it a nearly perfect score, saying that it easy to install and use.
Perhaps you're hiker who loves to photograph your adventures? Or you're embarking on an epic family trip that needs to be heavily documented? If so, the LaCie Rugged Mini 1TB External Hard Drive Portable HDD is for you. It not only comes in an all-terrain case, it's waterproof, and the drive itself is very compact and light making it the perfect travel companion. For being a mini external hard drive, it has a ton of space and uploads files quickly ( it has speeds of up to 130MB/s).
External hard drives are a cheap way to boost a PC's power by adding more storage. With the Western Digital 2TB Element, you'll get exactly what you are looking for. There are four different available size options, depending on your needs, but this small and quick drive can satisfy a lot of them on just the 2TB space available. You also get the added protection of a 2 year warranty, proving it holds up over time to keep your files (and memories) safe. And in case you need another vote of confidences, over 4k people gave it a nearly perfect 5-star rating.
##Samsung T5 Portable SSD - 1TB - Rose Gold - USB 3.1 External SSD
Combining function and "fashion" this slee external hard drive is a real winner. With it's sleek metal encasing, it evidently fits in the palm of your hand. The drive comes in four different color options and in various amounts of space There is an option to add on a password protection passcode to keep files protected. However it is important to note that it is only compatible with Software requires Windows 7, Mac OS X 10.9 (Mavericks), Android 4.4 (KitKat), or higher.