The Most Comfortable Men's Underwear
Seriously, these are cloud-soft, sweat-wicking perfection.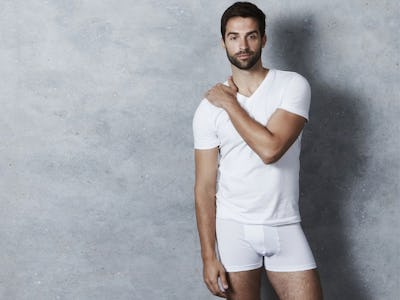 Amazon
Buying underwear may seem like a simple endeavor, but given that it's the first point of contact with your most delicate regions, it's something worth putting extra thought into. One of the biggest considerations for the most comfortable men's underwear is material.
There are tons of fabric options out there, but comfort-wise, the three best typically include cotton, bamboo, and/or modal. The advantage of cotton is that it's naturally soft and breathable. However, it has a tendency to trap moisture. Bamboo and modal, on the other hand, are moisture-wicking and dry quickly. Plus, they help reduce odor and bacteria. Most of the time, all three have spandex or elastane mixed in for some flexibility and stretch.
In addition to material, there are a few additional comfort features to consider:
Support: This is typically achieved through a three-dimensional cup or pouch that holds everything in place and provides protection.
Lack of friction: Underwear rubbing against your skin is a recipe for discomfort. Features like flatlock seams, covered stitching, and tag-free designs will minimize irritation.
Snug fit: It's hard to feel comfortable if your underwear is riding up all day or requires constant adjusting. Options that stay in place and don't bunch up are the most comfortable, along with soft waistbands that don't roll down or fold.
To help you find the perfect pair, I researched the factors above and made a list below of the most comfortable men's underwear. Check them out below.
The lowdown: Constructed with soft, lightweight bamboo, this pair of popular boxer-briefs deliver welcome ventilation where it's needed, preventing them from getting sweaty while simultaneously lifting moisture and drying quickly. They have an extra-wide waistband that gives you lots of flexibility, plus a snug fit to keep them from bunching up. The cover-stitch over the inside seam makes the design extra smooth, and prevents the material from chafing. A popular choice on Amazon with more than 800 five-star reviews, they come in a wide range of colors, too.
Proof from fans: "I will never wear another pair of underwear except for Cariloha! The bamboo material is incredibly soft, breathes amazingly, and the flexibility is amazing! I am active all day long and these are without question the best and most comfortable boxer briefs/underwear I have ever worn!"
Available sizes: Small to X-Large
The lowdown: For guys who want some extra help keeping everything in place, these boxer-briefs rank among the best men's underwear for support. This is largely due to the special 3-D support pouch they have that keeps things from shifting around and reduces the need to make adjustments. The spandex-modal blend keeps them soft and stretchy while also providing decent moisture management. They have a two-layer pucker panel that eliminates the seams, making them less likely to cause chafing, and they come in seven different colors. They're a bit pricier than some other options, but reviewers say the support is worth the investment. Just note that you'll need to wash them a few times to get them soft and comfortable.
Proof from fans: "I was skeptical to try something like this with the whole internal pouch type design, especially when one pair costs more than a whole pack of simpler underwear usually does. And reviews saying things like 'you'll forget you're wearing them' made me wonder if they were written by the company selling it. But so far, its definitely been worth it."
Available sizes: Small to XX-Large
The lowdown: Built with clever reverse-stitching, these popular Saxx Vibe boxer-briefs—which have more than 1,300 reviews—are among the best men's underwear to prevent chafing. Although all of the selections on this list are anti-chafing to some degree, these have specially designed seams that put the softer side against your body so that friction is reduced and itching is kept at bay. The 95 percent viscose material, with a hint of spandex for stretch, is exceptionally breathable and odor-resistant, too. The nine-panel construction provides support—not just for your package, but also around the thighs, quads, and glutes, too. Impressively, they come in more than 40 colors and patterns.
Proof from fans: "Saxx to the rescue! These sit very naturally in the middle of the thigh and eliminate all chafing for me. Regular walking NEVER causes these to ride up. I've worn these under jeans and shorts and they always stay in place."
Available sizes: X-Small to XX-Large
The lowdown: If you prefer a more basic style, this high-quality set of men's cotton underwear offers an excellent, low-maintenance choice. They're almost 100 percent cotton, which makes them extra soft, but they have a bit of spandex thrown in, so they're flexible, too. The frontside features a 3-D pouch for support and a snug elastic waistband to hold them in place. They come in an affordable five-pack with black, white, grey, red, and navy colors.
Proof from fans: "Great quality cotton that is comfortable and soft. They grab in all the right spots. No shrinkage in the wash! There was a huge selection of colors to choose from. These are fantastic and priced just right. Not over priced like the other named brands. Its a relaxed fit so don't feel any restrictions or bindings. I recommend them highly."
Available sizes: Small to XX-Large
The lowdown: Made with high-quality merino wool, these soft and cozy boxer-briefs are specifically designed for cold weather activities, especially those where you work up a sweat. The moisture-wicking wool, which keeps you warm while also managing perspiration, is perfect for things like skiing, snowshoeing, winter jogging, or even just running errands around town in cold weather. They have a blend of nylon mixed into the fabric that adds to the softness, and fans say they're comfortable to sleep in during the winter. The seams boast a chafe-free, flatlock design, and they come in seven colors.
Proof from fans: "Very comfortable, I expect they will last awhile as they are made out of quality materials and construction. Love the waistband and the overall way they feel. Will [definitely] be ordering more."
Available sizes: Small to XX-Large
The lowdown: If you prefer more traditional boxers, this bamboo selection from Chill Boys ranks among the most comfortable boxers for men. Ninety percent of the construction is sourced from breathable bamboo fibers, while the remaining spandex delivers stretchiness and mobility. They're soft and lightweight, according to customers, with a tagless waistband that reduces chafing and itchiness. The design holds things in place while also staying put, so there's no riding up. They're eco-friendly and come in four color selections.
Proof from fans: "I bought these boxers because I needed a new pair and bamboo sounded neat. What I got was extraordinary. These boxers have changed my life. Upon opening them I felt them and it was one of the softest materials I've ever felt. So soft in fact that I went out of my way to do a load of laundry. I find myself doing more laundry just so I can keep wearing them. They are the most comfortable pair of boxers I have ever worn."
Available sizes: Small to XX-Large
The lowdown: Like the boxers above, this pack of basic men's briefs are made from breathable bamboo rayon that's soft, smooth, and incredibly well-ventilated. It wicks moisture while also reducing odor and dries quickly if you do get damp or sticky. The design helps keep everything snug and tucked in while offering excellent support too, according to reviewers. The four-pack comes in an assortment of colors, and they're fully machine-washable.
Proof from fans: "These are really fantastic. They are extremely comfortable. Much nicer than cotton. They are contoured perfectly. The leg openings stay snug, but are not too tight. I stays snug in all areas, and doesn't have any tight or loose feeling on any portion of it. The elastic band at the top doesn't fold or slip."
Available sizes: Small to XX-Large