Extremely Cool Joker Gear Because We're Already So Excited
The new Joker movie comes out soon! You need merch!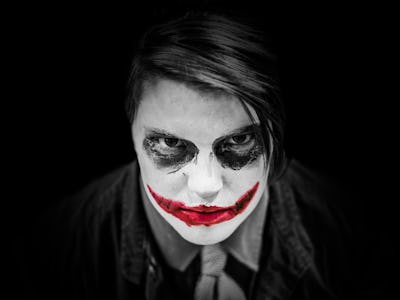 Unsplash / Hermes Rivera
Joaquin Phoenix looks terrifyingly creepy in the promos for the new Joker movie. We meet him before he is all evil villain and see how—as the world rejects, punches, and picks on him—he descends slowly into madness. Dark, moody, and scary, this movie promises to the an awesome Halloween flick.
Do you need some merch—or a subtle Halloween accessory/costume—to show your excitement? Yeah, we thought so.
There is a lot of loud, obvious merchandise out there. You can find that on your own. We found some of the strange, oddball, and subtle gear you actually want to own.
Here's one for the walls of your in-home theater (or that hallway you are covering in movie posters because original art is too expensive.) Arthur Fleck (Joaquin Phoenix) is descending into madness as portrayed eloquently in this visual metaphor as he dances his way—insanely—down the stairs. But its appropriately creepy and pseudo-happy vibe might give you nightmares… so don't hang this one in the bedroom.
Build a Batman Helicopter and the Arkham Asylum with this Lego set. You can act out scenes from The Joker on your coffee table—or make a stop-motion short film homage—using the included Joker, Batman, and other toys.
This will make Halloween so easy. Just go as yourself from an alternate reality. The reality where you work at the Arkham Asylum for the criminally insane. For that, you don't need to do a whole cosplay thing. Just wear your ID card from work. You upload a photo of yourself here and pay some money ($13). And in return you get a nicely executed ID that says you work there. You get to pick your security level and ID number, too.
Are you sane? Are you sure? Maybe your friends and family would appreciate a bit of proof? Hang this certificate of sanity from Arkham Asylum next to your college diploma and show your fandom while giving everyone who knows you the peace of mind they crave.
Need a new pair of joggers? Why not get something with a bit of morbid humor on it, too? These are wearable, comfortable, and pretty funny. They look exactly like the sort of thing you would wear if you were committed to Arkham and placed on suicide watch. But you, of course, are going to wear them to eat candy and hang around the house with friends on Halloween—or maybe for the entire month of October.
You are covering your laptop (or car, maybe?) with stickers. This one will fit right in. Obviously, it's the logo of Arkham asylum. But it's understated. It makes no effort to explain itself to the uninitiated, the best kind of fan merch. Did you once work there? Were you a resident? Don't forget to come up with a backstory for your character for when someone asks what Arkham is.