Clean Energy: Why Australia Is About to Beat Its Renewable Energy Target
The country has been laying the groundwork for a big shift.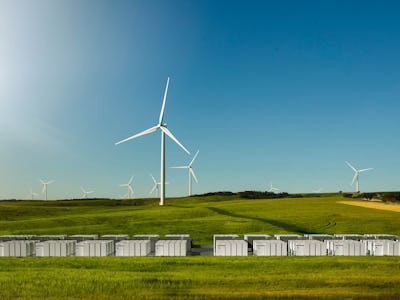 Tesla
Australia is about to meet its renewable energy goals at lightning speed.
The Clean Energy Regulator, the government body responsible for overseeing the targets, announced Wednesday that it has given the thumbs-up to enough energy capacity to meet its target for large-scale grid projects. The goal was to produce 33,000 gigawatt-hours of clean energy by 2020.
"It is now certain Australia will generate enough renewable energy to meet the 2020 Large-scale Renewable Energy Target," David Parker, the chairman of the Clean Energy Regulator, said in a statement.
Australia, which was the 15th largest emitter of greenhouse gases in 2015, has taken a number of steps to encourage renewable adoption. The national government, as part of its aim to meet the target, has subsidized the construction of wind, solar and hydro energy.
These initiatives are paying off. Wind and solar moved from the most expensive forms of energy in 2001 to the cheapest today. These declining prices are expected to have a knock-on effect, with analysis from RepuTex claiming the country could reach 50 percent renewables by 2030 without any new policies, thanks to declining prices.
Imperial College London data shows that Australia ranked 10th in terms of renewable capacity additions from 2008 to 2017, adding 0.4 kilowatts per person, edging out the 12th-placed United States but adding less than half the capacity of first-placed Germany.
Australia and Clean Energy: How to Build Renewable Energy
The government set a target to produce 33,000 gigawatt-hours of clean energy from large-scale projects by 2020. As part of its goal to reach the target, the government has offered subsidies to help spur construction. Research in 2017 suggested the government would give subsidies up to AU$2.8 billion ($1.9 billion) annually to the renewables industry.
The Clean Energy Regulator is just one of the many steps taken by the government to meet these goals. It's an independent statutory authority, established by the government in the Clean Energy Regulator Act 2011, which states its goal as "accelerating carbon abatement for Australia." It does this by administering the legislation that will help reach this goal, which includes the large-scale target.
The regulator stated in 2016 that 6,400 megawatts of capacity would need to be built between 2017 and 2019 to meet the renewable energy target. This target was met on August 30, 2019, when the regulator approved four large wind and solar power stations totaling 406 megawatts. The body is tracking a further 6,410 megawatts of renewable energy sources to be built over the coming years.
Australia has made eye-catching headlines from some of its projects. It played host to the world's largest battery when Tesla completed its 129 megawatt-hour project in South Australia in November 2017. The country is also set to create the world's largest virtual power plant, equipping 50,000 homes with solar panels and batteries to create an energy sharing network.
The renewables target, introduced in 2001, has been modified. It originally stood at 20 percent of the country's electricity, calculated to come to around 41,000 gigawatt-hours. The government and opposition agreed to scale it down to 33,000 gigawatt-hours in 2015, which it claims reflects lower overall demand for electricity.
Australia and Clean Energy: The Future of Energy Generation
There is still a lot to do. Although it's set to meet the target to produce 33,000 gigawatt-hours of clean energy by 2020, Australia currently produces around 260,000 gigawatt-hours of energy.
"While future investment faces a number of constraints, this is by no means the end of renewable energy investment in Australia, with markets continuing to innovate and adapt to opportunities and challenges," Parker said.
As part of the Paris Agreement, the country aims to cut overall emissions by 26 percent by 2030 compared to 2005 levels, before reaching net zero by 2050. Anna Skarbek, CEO at ClimateWorks Australia, declared in September 2018 that the target would be missed under current policy. Although emissions dropped between 2005 and 2013, they started to rise again after that date. Electricity accounts for around one-third of the country's emissions, making a switch to renewables vital.
"With so much potential for reducing emissions across all sectors of the Australian economy, we can do more to support all sectors to get on track — there is more than enough opportunity, if we act on it in time," Skarbek wrote.
A subsequent report in May 2019 suggested the country could reach 50 percent renewables generation by 2030, up from the less than 20 percent today, without any government intervention. A surge in state-level schemes, analysts RepuTex explained, could push wholesale rooftop solar prices down further over the next three years from AU$85 per megawatt-hour to AU$70 ($57 to $47).
As renewables rise, fossil fuels are expected to fall. RepuTex head of research Bret Harper stated that fossil fuels were "modeled to be more broadly on the decline, displaced by a large volume of solar, wind and pumped hydro."
With Earth recording record high temperatures, it could be a much-needed switch.