The Best Coffee Grinders 2019
Freshly-ground coffee is what you've been missing.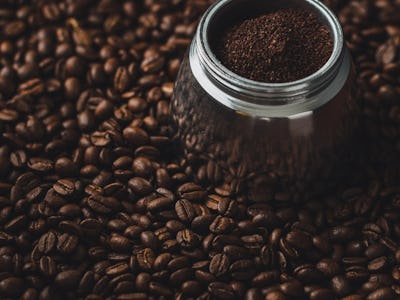 unsplash 
Any true coffee lover will tell you that freshly ground coffee is the key to a great cup of joe. The fact is, ground coffee, no matter how convenient it may be will always lose something in translation. The humble coffee bean is nature's perfect way of encapsulating the beautiful aromas and delicate oils contained within. The surest way to the best cup of coffee you ever had is to decrease the amount of time between disruption of the bean and brewing and the only way to do that is to grind your beans at home.
Cuisinart is a household name when it comes to great kitchen appliances, and the supreme grind burr mill is an excellent example as to why. This burr grinder delivers a uniform grind which in turn yields exceptional flavor. The Cuisinart burr grinder has a one-touch power bar and automatically shuts off when the grind is complete. With 18 grind selections ranging from extra-course to ultra-fine, the perfect cup of coffee is guaranteed.
Krups makes easy work of the daily grind, delivering freshly ground coffee in under 10 seconds. Stainless steel blades provide a uniform grind and superior flavor. The Krups electric grinder has an added safety feature, where the blades do not spin if the lid is not securely attached. The Krups coffee grinder is compact in size, but don't let that fool you, it can grind 3 oz. of beans, which is enough for 12 cups of coffee.
The Shardor coffee grinder is multi-purpose, however, there's no worry about odors and cross-contamination as the unit comes with two grinder bowls. The 200W motor and stainless steel blades allow for quick and even grinding. And you directly control the grind, from coarse to fine, by how long you depress the lid. As an added bonus, the Shardor's sleek design would be an elegant addition to any kitchen.
The Secura coffee grinder is the perfect combination of form and function. The stainless steel design and stainless steel blades deliver perfectly ground coffee every time. The steel bowl has measurement markings and it is removable making cleanup a breeze. The Secura features one-touch operation, a safety lid lock, and the clear lid allows you to see your grind.
The Javapresse puts the power of your coffee grinder in your hands—literally. The manual grinder has 18 click settings, allowing you to grind your beans anywhere from coarse to ultra-fine. With the Javapresse there are no dead batteries and no pesky cords to deal with, in fact, the Javapresse is a pretty nice addition to your countertop decor. The unit is also compact and cuts down significantly on the noise.