Keep Your Home Cleaner by Wearing These Traditional Japanese Slippers Indoors
Why go barefoot when you can dress like you're in a Kurosawa film?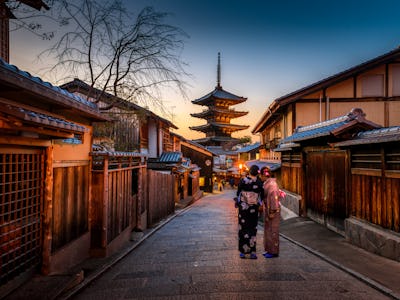 Unsplash / Sorasak
Japan is rich with domestic traditions that make it possible to live well in a small space. For example, the hard line the Japanese draw between shoes you wear indoors and those you wear outdoors is a brilliant way to keep interiors clean.
Who knows what you stepped in outdoors? Maybe you walked through someone's spilled soda, the spot where a dog pooped, a chemical spill from a fertilizer accident. After you walk through that, you wear the same shoes to walk into your living room? This Western habit makes the Japanese cringe.
In Japan, there is an entryway to most houses, restaurants, and other indoor places—called the Genkan—where you take off outdoor shoes and don a pair for indoors. Public places often keep a stockpile of slippers for this. At home, you keep your own indoor shoes in your genkan and a few extras to offer to guests.
If you do this religiously, outdoor yuck never makes it to your clean, indoor space. You vacuum and mop less often and your place stays cleaner.
The best part of this tradition is the indoor shoes that have evolved to fill this need. They are beautiful, comfortable, and easy to put on.
Here are five that will—hopefully—inspire you to adopt this tradition at home.
We love this pair. So practical. But also beautiful. You can step on the red heel to these wear like a slide. Or put the heel up and transform them into a clog. They will look great at your entryway and feel like home on your feet.
That classic kasuri pattern in indigo is muted but lovely. The fabrics are all cotton. The sole is rubber. Everything about these says traditional Japanese house shoe. They are made in Japan but come to you from Portland.
If you need a beautiful pair of traditional Japanese shoes to adorn your genkan and signal to visitors that you practice the art of the indoor shoe, this is the one. These traditional Geta sandals look as if they just arrived from a Kurosawa film. They are the real deal, though and will look even prettier on. They come in several colors and, if you want to go all in and offer a choice of house shoes for your guests, these are priced right for that.
If you like your house slippers authentic and green, you can not do better than these. These are brought to you by Heiwa Slipper, a Japanese company that specializes in all forms of traditional Japanese house shoes. This pair is made from fabrics that have been discarded on factory floors.
They are the perfect way to embrace this tradition. Each shoe is unique, comfy, fuzzy, recycled, and traditional. They will also feel soft and amazing on your feet.
Also from Heiwa Slipper in Japan, this beautiful pair of slippers is made in a Japanese village in Northern Japan from corn husks. They are light, breathable, and as authentic as a slipper can get.
It's time consuming to make these. The farmers do it in winter when the farming chores are put to bed for a few months. 
These slippers are a bit of rural Japan, ready to adorn your genkan but they are not the most durable slipper in the world. So don't march around in them.
These are made in Morocco but they will fit so perfectly in your genkan that they are hard to resist. They are made from sheepskin. The heel kicks down so you can slide them on. They are soft, supple, easy to pack, and will look great on and in your entryway. They come in two color — dark blue and the pale green here.
Bonus points for being so affordable you could buy a few pairs as gifts or for guests.