The 5 Best Male Masturbation Toys
From pocket pussies prostate massagers.
by Maria Del Russo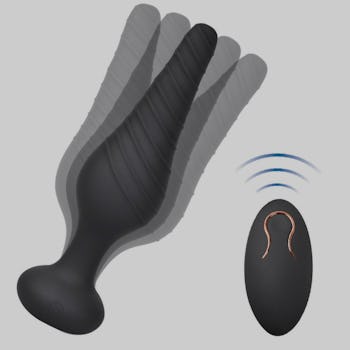 Amazon
For guys interested in venturing outside of the hand-zone, there's a whole wide world of sex toys out there to incorporate into your masturbation sessions—and you no longer have to drive all the way to your local adults-only store to get the goods, because many of the best male masturbation toys are available right on Amazon. The selection is wide, the shipping is fast, and the prices are right, making adding a new sex toy to your collection (or investing in your first toy!) easier than ever.
Most of the masturbation toys on this list simulate regular sex: pocket pussies and faux-mouths that mimic the feeling of penetrative or oral sex. But there are other options out there, too, especially when it comes to P-spot (prostate) pleasure. If you've never experienced any sort of prostate stimulation before, it provides a similar kind of sensation that people with a vagina feel when their clitorises are stimulated. It can be accessed by rubbing the perineum, which is the space between the testicles and the anus, or with a vibrating plug. And when used while manually masturbating, plugs can help you reach a seriously mind-blowing orgasm.
Regardless of what type of toy you're interested in, you'll find five of the very best sex toys for men you can buy on Amazon, below.
It's impossible to talk about male masturbation toys without mentioning the Tracy's Dog Pocket Pussy. This type of toy is so popular with people with penises because of how easy it is to use. Its TPE material feels like skin, and its ribbed interior gives you extra stimulation as you're thrusting. It's easy to pull apart and clean, and its exterior looks exactly like a labia. And since it's compact, you can take it on the go. Just make sure to use lots of lube—this toy feels best when wet.
As one reviewer put it: "Very close to the real thing … The best part is the design of the inside vaginal canal. Lots of textures and rigidness to mimic the real thing. Feels great with lubricant. Since it has a long canal, I can go as deep as I want."
Another reviewer recommends warming it up in hot water first for an even more pleasurable sensation.
If you don't want to choose between the feeling of penetrative and oral sex, this Tracy's Dog Male Masturbator is for you: it has a vagina on one end, and a mouth on the other. The mouth is designed with both a tongue and teeth for a lifelike feeling, and the inside of the toy is ribbed and stretchy for a tight, extra-stimulating sensation. Like the pocket pussy, this toy is easy to clean and best used with water-based lube. Choose from two sizes.
"The teeth are not too hard that they hurt you, but just hard enough to grind against the shaft in a way that stimulates you," one reviewer reports. "If you're looking for immersion in a blowjob fantasy this is perfect because the lips wrap around you just like they do in real life and the feeling of teeth constantly reinforce the fantasy that you're inside a real mouth."
For those looking to seriously level up their masturbation game, there's the Feelingirl Male Masturbator. It's designed to look like a woman on her knees, complete with butt cheeks, an anus, and a vagina. It's made of soft elastic silicone, so it's best used with water-based lube, and both the anus and vaginal canals are 3D-ribbed for a realistic feel.
Almost 80 percent of reviewers have given it five-stars, saying it "feels just like the real thing." Other customers recommend using it as an endurance trainer.
One fan of the sex toy shares, "Material feels soft, and jiggles. Inside textures feel great, and both hole have different textures. Feels great, has good weight, and easy enough to clean. Buy it already!"
The beauty of this Loverbeby 3-in-1 Remote Control Prostate Massager is how versatile it is. You can slip it onto your finger and use it to massage your perineum for prostate stimulation, or use it to stroke your penis as you manually masturbate. By slipping the ring onto your penis, which is optional, it can also intensify your erection and even help you last longer. And if you want to get a partner involved, you can give them the vibrator to use on you while you control the remote. This massager has nine different vibrations modes, so it'll always offer a unique sensation—it's also waterproof and rechargeable via USB.
"For a butt plug/prostate massager it is great, with added [the] benefit of providing erection support," one reviewer writes. Another raves, "This prostate massager is amazing in all aspects. I've had prostate orgasms as strong as the first time I ever got off this way. The vibration styles are amazing and will send you over the edge in ecstasy."
A butt plug, like the Cob Vibrating Anal Plug with Remote, might not seem like a typical masturbation toy. But when used as a tool to enhance your manual masturbation session, it can take things to a whole new level. Using plenty of lube, insert it before you get to masturbating: The flared base ensures it stays in place, while the remote control allows you to control things while you're stroking your penis. The plug has 10 different vibration modes so you can change things up, it's USB-rechargeable, and made of medical-grade silicone. And when you achieve that blended orgasm with the added prostate stimulation, you'll wonder why you never tried a plug like this before.
"Don't think about it, just buy it and enjoy. Would recommend to all thinking about experimenting back there!" says one reviewer.