The 3 Cheapest Ergonomic Keyboards
These keyboards are both cheap and worth your time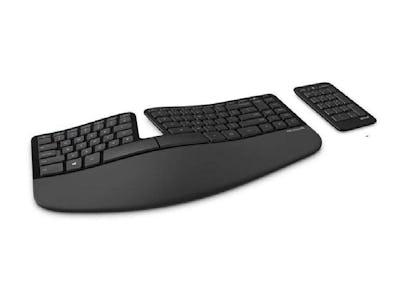 Amazon
If you work on a computer foryour job, then you know how important a quality keyboard is for both productivity and comfort. For the ultimate typing experience, many have made the jump to ergonomic-style keyboard setups, and a good one can cost a lot of money. That said, a solid ergonomic keyboard doesn't have to cost you an arm and a leg—and below, we're going to show you three great options that also cost well under the $100 mark.
Nabbing the Amazon's choice badge for the search "ergonomic keyboard," the Perixx Periboard split keyboard is both designed for comfort and very affordable. The split keyboard conforms to the natural arm and hand positions, and the built-in palm rest ensures that you're comfortable, no matter how long you're typing for. You'll also have access to seven hotkeys for quick actions at the top of the keyboard.
At under $50, this is an absolute steal. It's a keyboard that's well designed and comfortable at an affordable price—and that's all it needs to be.
If you're looking for an ergonomic split keyboard like the Perixx option above but could use a bit more oomph in the design department, Microsoft's own Sculpt keyboard may be what you're looking for.
The design of the keyboard is not only great to look at, but the domed keyboard design positions wrists in a natural, relaxed angle while the cushioned palm rest provides support ensures they're in a neutral position while typing. Meanwhile, the "Natural Arc" key layout is said to mimic the shape of your fingertips. It seems like a lot of marketing jargon to say the keyboard is comfortable, but one look at it, and you can't help but want to try it out yourself.
If you're not ready to go with a full-fledged split keyboard, but still want one in an ergonomic style, the Logitech MK559 fits the bill at an affordable price point.
Like the others on this list, the MK550's wave design reduces stress on the wrists and provides a more natural typing position compared to standard keyboards, and the integrated palm rest ensures that you have ample room. To provide an even more comfortable typing experience, you have three height options to adjust the keyboard in as well.
The MK550 brings a lot to the table as far as keys are concerned. You're treated to a full keyboard and number pad, as you'd expect, but you'll also get media control keys, a key to power off your PC, and more. Also included is the Logitech MK510 precision laser mouse that was made with comfort in mind.