Best Men's Dress Shirts Under $50
Need to dress up? Here is a closet full of shirts that will make you look amazing!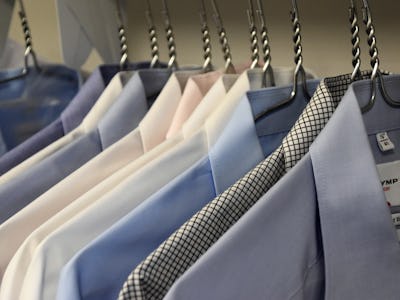 Unsplash / Waldemar Brandt
You need a pile of dress shirt for your job. But your heart is not in the dress shirt.T his is your father's shirt, the shirt worn by the unlikeable lawyer in TV sitcoms. Understandably, you're fighting it.
Hold on a minute! You are putting way too much baggage on this poor shirt! The dress shirt can be a sexy beast! You wouldn't like the unlikeable lawyer any better if he wore a cool shirt. In fact, he is wearing a cool shirt!
You are going to make this look awesome! Because there is one good reason that the dress shirt has dominated male workday and special event fashion for so many years: Men look smoking hot in them.
Let go of your preconceived notions. You are about to transform the dress shirt from the shirt you have to wear to the shirt everyone wants after they see you in it.
Here we go!
(Oh, except let's not spend too much money on this because that would be cheating.)
Goodthreads is one of Amazon's brands and, though we aren't sure how, these brands have managed to package some nice fabrics and cuts into low price points. This shirt is no exception. This is a heavy-hand fabric. Not quite a denim shirt but headed in that direction. But it's a slim fit so you are absolutely wearing a dress shirt, if a slightly casual one. It comes in several terrific colors. So, if you stop here and buy every color and call it done, your Fall/Winter work wardrobe will be awesome. (Don't be afraid of those pinks and purples!) And a closet full of these will cost less than one high-end men's shirt in some hoity-toity stores.
Linen is it's own kind of dressy. It's the dressy of Southern gentlemen, Gatsby, and summers in the Hamptons. Always a little rumpled, it doesn't try too hard to be buttoned down because the shirt's contents are beyond having to prove anything to anyone.
But don't let the 1% own it. This fabric is also legendary for being comfortable and cool in the heat. You will look better in it than some spoiled heir apparent, anyway. And, again, Amazon has made it accessible to all of us—somehow. This shirt is so affordable you could stock up for next summer or for the possibility of being invited out on a yacht or simply because you don't want to bake when Indian summer hits.
You had an amazing summer. You surfed. You worked hard in the yard. You played hard. And you have the body to prove it. Get into one of these stretch, slim-fit dress shirts, you sexy thing! Everyone wants to enjoy that scenery.
It comes in so many colors, you could fill your closet twice and never repeat yourself. And at this price, with that core, why not? If you've got it…
You need to dress up but you just aren't feeling the button-down, shirt tucked in, slim-fit madness…yet. It's still summer. You aren't ready to be that guy. But you don't want to disrespect the event or the place that's asking you to come in your best duds. In Cuba, that moment calls for a Guayabera shirt. It's worn untucked. It's pleated down the front and has four pockets. It's definitely dressy. But it's like nothing anyone else is wearing.
This linen Guayabera will get looks, and then nods of approval. You stayed between the lines, sure you did. But no one knew the lines were gonna look so cool, tropical, and sexy on yoou. No one has attempted this since Ricky Ricardo stole our hearts in the 60s. But it's time!
If your idea of dressy is more along the lines of wedding or you singing jazz in front of a crowd, you want at least one of these black tuxedo shirts.
It is all-cotton, so it feels great on. And it is pleated all the way down the front and sports a wing-tip collar and pearl buttons. Shirts don't get much dressier than this. But the black! That's a modern spin on formal.