Miami Prison Denies Muslim Inmates Halal Meals
Sad enough that it's an 'OITNB' plot line.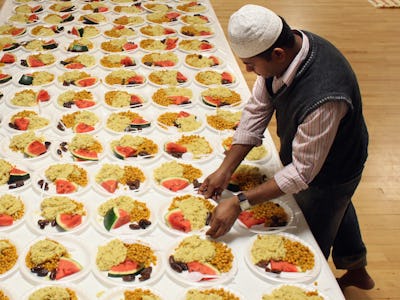 Dan Kitwood/Getty Images
Just in case you didn't realize the prison system was unabashedly awful, a new lawsuit will help you get the picture. The American Civil Liberties Union of Florida, along with four Miami-Dade County inmates, are challenging the system's refusal to provide halal meals for Muslim inmates, the Associated Press reports. The suit alleges that the county will provide kosher meals for Jewish inmates, but does not do the same for Muslims.
The ACLU and inmates did not intend to sue. In a June interview with the Miami Herald, Wilfredo Ruiz, a legal counsel with the Council on American-Islamic Relations Florida, said they would take the case to court only if the problem could not have been resolved with the administration. Obviously it couldn't.
Halal meat, in particular, must be slaughtered according to Islamic standards, and some meats — namely pork — are prohibited. A prison is not a gourmet kitchen, so it's almost guaranteed that neither of those requirements are met. The suit is just another indication that prisons often disregard inmates needs as human beings. Some institutions are beginning to reform — California recently moved to reduce solitary confinement; Rio de Janeiro prisons protect their transgender prisoners better than American prisons do — but most continue troubling policies. The food problem is obvious enough, though, that it's even a plot line in Orange Is the New Black's third season, albeit not about halal specifically. ("Black Cindy" converts to Judaism and is denied kosher meals.) We can only hope that the ACLU and inmates succeed to see positive changes in an otherwise bleak situation.
Update: The Council on American-Islamic Relations (CAIR) is suing, along with the ACLU and Miami-Dade inmates.