Best CBD Oil for Dogs on Amazon
This 5-star-rated hemp oil could be what your pet's been missing.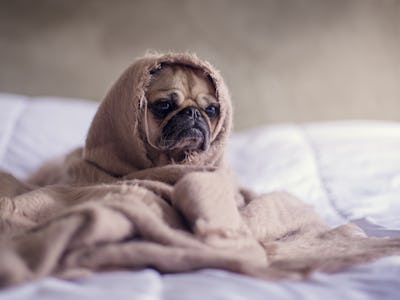 Unsplash / Matthew Henry
You love your dog. They feel like a member of your family and you would do anything for them. If your human brother or sister wasn't feeling well, you'd hope that they'd tell you, but your furry family member doesn't have the same luxury. If your dog has struggled with general anxiety and separation anxiety, you may have arrived at the end of your rope of solutions. The vet might have prescribed human-grade SSRIs, but if your dog has been on it for years, they may be starting to experience some not great side effects. Regardless of your pet's symptoms, it's now the future and as the medical marijuana ball has gotten rolling, dogs have begun to see some of the benefits of CBD.
As such, there are millions of options. A quick Google search will deliver hundreds of pages of options and if you go to your local pet store, you're just as likely to get a long list of options. But if you're not familiar with the world of CBD, it can be hard to parse through what's going to work and what's just snake oil. Naturally, you only want the best CBD for your dog. That's why commerce writers, like me, exist. We page through all the reviews, all the best sellers and find you the best option available.
Rated an average of 5 stars from over 120 verified buyers, this CBD supplement is designed to help your dog at any age live their healthiest, happiest and most active lifestyle. You can use the pre-portioned dropper to administer a small dose of CBD oil to your pet's mouth directly, but if you have a feisty pooch, you have some other options as well. You can rub it on their gums or put a couple of drops on their food or water. Before you know it, your pet will be lining up for their CBD oil like a treat.
From there, you will start to see your pet have markedly improved mood. CBD oil is known to act as a natural pain reliever with natural anti-inflammatory properties to help with your dog's healing after a surgery, injury or just your dog's day to day aches and pains. Not only that, but hemp oil is also known to reduce anxiety and is the perfect supplement for anxious pets on long distance trips, coping with thunderstorms and other phobias as well as aggression around other dogs. The necessary inclusion of enriched omega acids, such as Omega 3 and 6, will ease your senior dog's hip and joint issues to improve their range of motion as well as enhancing the appearance of your dog's skin and coat.
Not yet convinced? The incorporation of CBD oil to your pet's regular routine might as well be a miracle worker because in addition to all the aforemention benefits, your dog is likely to experience an improved appetite and will have a noticable improvement in digestive health, vomiting and other gastrointesinal issues.
At more than 60% less than its regular retail value, there isn't a better time to try this amazing product. If you were hurting, you'd want to do everything in your power to improve your quality of life and this could do that for your pooch.