This Pressure Massager Will Pay for Itself in Less Than Two Uses
If you love massages but can't afford them, check out this awesome pressure massager.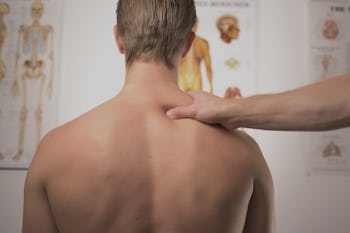 Unsplash / Jesper Aggergaard
I haven't had a conversation in over a decade that hasn't at some point included a quick complaint about persistent neck pain, an aching knee, a sore back, or some other kind of noticeable—but hard to locate—source of bodily discomfort. We're grown-ups and we work hard, and a lot of times, that includes pushing our body's limits for better—or for worse—and our body's response is usually a cry for relief. Rather than continuing to allow yourself to suffer in pain you should not have to endure (or shelling out the big bucks to see a massage therapist) you should consider looking into the newest trend in home remedies.
There have been dozens of at-home massage systems to come out over the years. Usually, you'd hear about them on the nights you passed out watching television, only to wake up to the booming voice of someone trying to sell you a product through a 3 A.M. infomercial. Naturally, you'd be skeptical of those products, but thanks to Amazon reviews and the ease of comparing products these days, it's easy to see that this handheld massage device from WASAGUN is legit, and the best bang for your buck on the internet.
Designed to provide up to four hours of massage off a single charge, the WASAGUN Massage Gun offers 5 adjustable speeds so that you can be as gentle as you need to be when dealing with bruises or a stiff neck, but boost the speed when you need extra firmness for knots and sore shoulders. From there, you can choose from one of the four included interchangeable massage head attachments.
The round and fork head attachments are perfect for use on your neck and spine, while the bullet is ideal for use on your joints, trigger points, and deep tissue massage needs. Have a kind of all-over pain you can't easily locate? The flat head attachment is ideal for use all over your body. Each massage attachment uses its unique shape to activate muscles, increase blood flow, reduces muscle recovery time between workouts or after injury, and relieves pain to relax you from head to toe.
The design of the pressure massage gun is meant to take your hand's natural contour into account for the best grip possible. At a 15-degree tilt, the WASAGUN Massage Gun is ergonomically designed to reduce risk of dropping so that you can conveniently reduce your pain levels without worry. Not only that, but compared to other models, the WASAGUN Massage Gun is noticeably quieter, so you can use it discreetly at the gym—or at home while your roommate or spouse is sleeping—without worry of disturbing anyone near by.
At less than $300 for the whole package—including the ultra convenient carrying and storage case—this personal massager will use pressure and vibration to pay for itself in just a couple uses. Go ahead, look up the price of a therapeutic massage in your area right now. Now think about paying that price every single time your neck hurts. Rather than sit at home in pain that only worsens or buying a service that only lasts for a brief period, choosing this massager is a great way to invest in yourself in the long term.