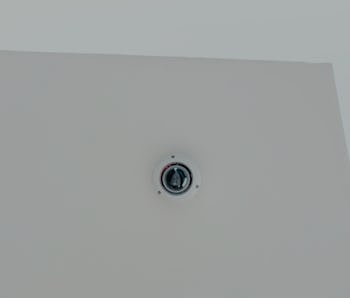 Innovation
The 6 Best Home Security Systems 2019
Everyone should feel safe in their home. Check out these top-rated home security systems on Amazon.
Unsplash / Bernard Hermant
As the saying goes, your home is your castle, and as such, you want to protect it. So, you're going to need a home security system. A good system should effectively work to deter would-be criminals as well as provide a sense of safety. While not all systems have features such as direct connections to law enforcement, you should look for more standard options like motion detection, video surveillance, and of course an audible alarm to scare away people who are up to no good. With that in mind, these are some of the top-rated home security systems that we've seen on Amazon this year.
Ring is probably one of the most recognizable names in DIY home security. The five-piece kit integrates seamlessly with Alexa and other smart speakers. It comes with a base station, keypad, contact sensor, motion detector, and range expander. Unlike traditional security systems, Ring doesn't require long-term contracts. The Ring kit comes with a free 30-day trial and is only $10 per month afterward for the enhanced 24/7 professional monitoring, cellular backup and unlimited video storage. The easy to use system is perfect for apartments and homes and can be managed remotely from their proprietary app that works on iPhone and Android devices. Note that you can buy additional motion and contact sensors to accommodate the layout of your property.
If you're on a tight budget, Thurstar's home security system offers you one of the biggest bangs for your buck. The contract-free system is expandable and comes with a fair amount of accessories to build your DIY home security system. The kit includes a mountable keypad, 10 contact sensors, two motion sensors, four remotes, and an alarm. The system works via GSM but the sim card is not included in this package. However, the system can be programmed to create 99 wired defense zones and eight wireless zones for enhanced security. Also, the remotes include an SOS function which is ideal for seniors or young children who are home alone when an emergency occurs.
If you prefer a home security system that's wireless, controlled by an app but cheaper than pricier options like Ring, then PANNOVO is a great alternative. The modestly priced kit comes with more accessories than the Ring kit we featured but is just as robust. The PANNOVO set comes with a primary programmable motion sensor that also detects noise and features a built-in siren. The rest of the kit includes an additional motion sensor, two wireless remotes, and six contact sensors. You can expand the system to work with eight contact sensors and four remotes. PANNOVO's system doesn't require contracts or monthly fees and also includes a mobile app that is compatible with iPhone and Android devices. Note that you must have a WiFi network in place for this system to work.
If the idea of having to mount endless contact and motion sensors all over your house sounds intimidating, then Blink is a bit simpler in terms of installation. The Blink three-piece camera system comes with one base and features three mountable cameras that are activated when the built-in motion sensors are triggered. Blink's system doesn't require contracts or monthly fees and all video footage is stored to the cloud and can be accessed by your mobile device. The system is also rated to work with Alexa and other smart speakers.
Yi is another home security system that's fairly easy to install and use. The camera system comes with four cameras and can be upgraded to integrate with professional monitoring and emergency service access if you opt for a monthly plan. Unfortunately, they don't specify what that plan costs. However, this system is one of the most popular security systems on Amazon for less than $200. The Yi cameras also include two-way audio capability, as well as night vision recording to a depth of roughly nine feet. The footage is recorded at 1080p and is saved to the cloud for free for seven days. Each camera can also be configured with an SD card so you can save the footage locally. You can also configure the system with your smartphone to receive activity updates and watch the footage in real-time.
If you have a limitless budget, then the Arlo Pro wireless security system is a great option that comes highly recommended on Amazon. With almost 15,000 reviews and a four-star rating, this four-piece system is easy to install and can be managed via Alexa, other smart speakers, and your smartphone. The system we're showing features a base and three cameras, but you can upgrade on the purchase screen to as many as six cameras. This indoor/outdoor system is truly wire-free but does require high-speed internet to work with a minimum rating of 1Mbps. Two-way audio is another feature on the cameras and all footage is stored for seven days. If you opt to upgrade to a paid plan, you can also receive 24/7 professional monitoring which gives you access to emergency services.