The Best Trackball Mouse
Give your hands a break by opting for a trackball mouse instead of a traditional one.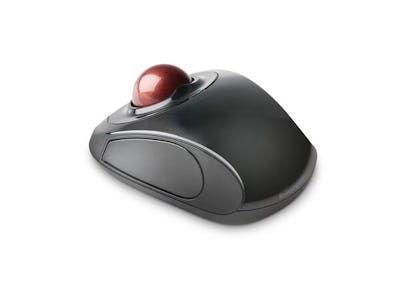 Kensington
Sometimes, using a regular mouse can be one of the most frustrating parts of your day. If you're on the computer for hours at a time, you know how painful it can be throughout the top of your hand to scroll with the scroll wheel, constantly click things, and move the mouse over your mousepad in several physical motions. You can alleviate all of that pain with a trackball, which lets you rest your hand and wrist and use your fingertips to do all the cursor movement. If eliminating repetitive movement from your computer routine is your goal, you might want to make the switch. We've pinpointed the best overall finger-operated trackball out there that you can buy for anyone looking to take the plunge.
A good trackball can be somewhat hard to find in an age where many of us use fingerprints or touch controls to navigate our computers, tablets, and phones, But if you want the Cadillac of trackballs, you're going to want to pick up the Kensington Expert Mouse Wireless Trackball. With a smooth, responsive ball that feels great no matter which hand you use, it's weighty and solid. It's also quite attractive, as far as trackball mice go. It comes with four buttons that you can customize to your liking thanks to Kensington's software. You're already getting more buttons than a traditional mouse, and that's just the tip of the iceberg when it comes to features.
It uses a 2.4 GHz wireless dongle to connect to your computer or Bluetooth if you choose, and it comes with two AA batteries already, with plenty of battery life to go on. It's built to remain sturdy over hours of use, and there's even a place to rest the lower part of your hand since your fingertips will be doing most of the work with this particular model. You don't have to deal with frustrating cords, either. But if this version is too pricey for you and you don't mind hooking it up with a regular cord, you can opt for that version for a bit cheaper instead. Otherwise, this is called the Expert Mouse for a reason – it's the best you can get for the money, as well as in the genre. Be careful, though – you may never want to go back to using a regular mouse again after using this one.