Galaxy's Edge Prices and Crowds Spook Fans, So It's a Great Time to Visit
The Star Wars park at Disneyland has been surprisingly empty all summer.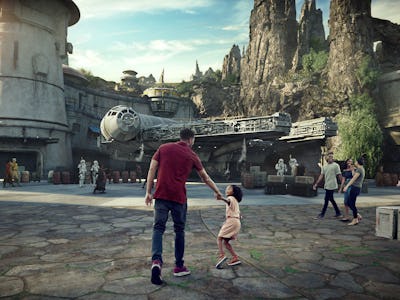 StarWars.com
Disneyland's latest Star Wars-themed park, Galaxy's Edge, hasn't been the runaway success Disney expected in the months since its May launch. In an earnings call with shareholders earlier this month, CEO Bob Iger admitted increased ticket prices and fears of overcrowding had prompted some customers to avoid the Anaheim attraction. That means if you're a Star Wars fan and solo traveler with a bit of cash to spare, now's a great time to check out Galaxy's Edge. But if you're traveling with younglings in tow, prepare to cough up a pretty penny.
Back in June, the Los Angeles Times reported wait times at at popular Disneyland attractions, including Space Mountain, Buzz Lightyear and Splash Mountain, had dropped dramatically from their usual levels. Park-wide, wait times declined 46 percent compared to the previous year. Outlets like New York magazine and Slashfilm have also noted Galaxy's Edge itself is surprisingly empty, with would-be customers scared off by price hikes, reservations and restrictions on annual passholder visits.
Iger acknowledged that the price hike diminished attendance over the summer during the call, noting that local hotels had also increased their nightly rates in anticipation of larger-than-average hordes of Star Wars fans. "We raised our prices, we brought our daily price up, so if you think about local visitation we brought the price of a one-day ticket up substantially from a year ago," he told shareholders.
Still, if you're planning a short visit with a friend or partner, a day in Disneyland isn't much more expensive than it used to be. Earlier this year, Disney announced admission prices would increase by an average of eight percent across the board ahead of the opening of Galaxy's Edge. The cost of a one-day, one-park adult peak ticket price rose from $135 to $149. Prices also increased roughly $10 each for regular and "value" tickets, both of which which block out certain dates. A quick scan of the Disneyland ticketing site shows no value ticket dates for the rest of 2019, though regular fares ($129) are available Mondays through Thursdays, and several weekends in September and November.
If all the enviable posts of folks posing with Stormtroopers and enjoying blue milk on social media aren't enough to entice you to make the trek to Orange County, just this week Time included Galaxy's Edge in its rundown of the 100 greatest places to visit in 2019. What's more, starting next week, you'll be able to build your own droid in addition to a spiffy custom lightsaber. Patrons can choose from an R-Series or BB-Series to customize their bot's appearance: think Build-A-Bear, but with a Star Wars twist. Custom droids will cost $99.99 when Anaheim's Droid Depot opens August 29, coinciding with the grand opening of the Orlando chapter of Galaxy's edge.
While grown-up nerds passing through Southern California should jump at the chance to check out Galaxy's Edge while crowd levels are low, those planning a several-day visit with a family have greater reason for pause. Admission to one park for three days (without any tiered add-ons like Magic Mornings) for two adults and two children will cost a cool $1160. That's not including flights, hotels, food, Porg plushies or custom lightsabers at $200 a pop. Since the area's second major ride, Rise of the Resistance, doesn't open until January 2020, it may be worth worth waiting a few more months to get the most bang for your buck.
Star Wars: Galaxy's Edge is open daily at Disneyland in Anaheim. The Disney World version launches next week, August 29.