20 Basics Under $50 on Amazon for Guys Who Just Want to Be Comfortable
If you like clothes that are both comfy and stylish, these basics are tailored for you.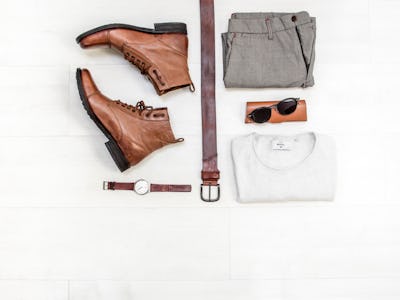 Unsplash / NordWood Themes
Some people celebrate New Year's at the start of the calendar year, but for the rest of us who never officially started seeing ourselves as grown ups, the new year always starts the day after Labor Day when school starts. If you're like me, and that's when your mother took you back-to-school shopping for all your new clothes for the year, then you may have never outgrown the habit. If that's the case, now is the time you are starting to think about the clothes you'll see yourself in for the year ahead.
I'm of the opinion that comfiness is close to godliness. If you're not comfy, you're not going to want to do anything—and let's face it, you have a lot to do. On this list, you'll find the 20 basic clothing essentials for adding comfort to your wardrobe in a major way.
No matter how badly you want to live your life in sweatpants, there are some occasions that require a little more formality. These awesome stretch dress pants are moisture-wicking, easy to throw in with your regular wash, come in a wide variety of sizes and colors to go with all your clothes, and will never need to be ironed.
You don't have to be an athlete to see the advantages in wearing performance underwear. Available in 17 different color ways to suit all preferences, these Adidas boxer briefs incorporate a blend of polyester and spandex to provide a comfortable fit that keeps you supported and smooth non-chafing stitching that keeps you from an uncomfortable rash at an inopportune time.
Who doesn't love t-shirts? If you've worn Carhartt anything before, you know that they make top-quality products, and if this is the first Carhartt product you're interested in, prepare yourself for a brave new frontier. Available in 10 neutral yet fashion-forward color ways, this henley shirt is made from 100% cotton and comes in both long sleeve and short sleeve options.
When it comes to clothes you wear often, who doesn't love multiples? That's one of the core values to keep in mind when shopping for your favorite basics. From Amazon's in-house brand Amazon Essentials, these loose fitting 100% cotton crew t-shirts are sure to become your next go-to shirt and did I mention they come in a 2-pack? At under $13, that's practically 2 for the price of 1.
Sometimes you want the look of jeans, but you don't want the familiar restriction of denim. That's why these Wrangler Regular Fit stretch jeans are perfect for the guy who wants to be as comfortable as possible while still dressing sharp. You can get them in all the usual denim finishes, including more fashion forward color ways like Slate, Black and Dark Indigo. With five deep pockets and heavy duty hardware, these are sure to be your new everyday jeans.
Who doesn't love shorts that can be worn without a belt? These casual heather patterned knit shorts have the feel of sweatpants without being pants. Unlike competing knit short options, these shorts actually have functional pockets and can be dressed up with a button down shirt or worn with your preferred gym shirt. Available in 10 unique color ways so you can buy every color for every occasion.
Designed to be the kind of shirt you can wear with anything to go anywhere, this cotton-linen shirt has a V-shaped neck line to add some necessary style to any outfit without making you feel stuffy. Available in sizes XS through XXL, this shirt also comes in six neutral colors and features a thoughtful 2-button closure for some elevated style. Wear it in the spring and summer on its own or layer with your favorite flannel the rest of the year.
Women have been able to live their lives in yoga pants for years now, and there has yet to be a comparable option available for men. That was until prAna crafted these amazing 32-inch inseam hemp pants that feature a comfortable elastic waistband and excellent breathability so that they're perfect for errands, a day at home, or an hour at the gym—and pretty much everything in between.
Sometimes you need low socks and other times you need high socks, but occasionally, you want something in between that is neither too-high or too-low. That's where these Smartwool Ultra Light Mini socks step in. With a 2.25-inch overall height, these socks are virtually seamless, are perfect for running, walking, hiking and everything in between.
If you have yet to find a brand of underwear that you actually like, look no further than these best selling boxer briefs from 5Mayi. They come in all the usual sizes and you can get a 5-pack in your preferred color or switch it up and get a variety of colors. They're tagless to avoid any unwanted skin irritation and over 1,800 verified purchasers left an adoring review.
Sweatpants are a vital part of the human existence, but you can't always wear your favorite ill-fitting pair when you're looking to present a brave and professional face to the world. For the times you are looking for a more elevated look with that sweatpants feel, these marled joggers provide a form-flattering fit with an elastic waist and cinched, ribbed ankles without sacrifice of the sweatpants feel you love.
These MO GOOD Shorts are Amazon's Number 1 pick if you search "men's comfy clothes" on Amazon. Available in a variety of sizes that aren't just Small, Medium, and Large, MO GOOD's sizing actually goes by your waistband size. Not only that, but the high quality cotton-polyester blend allows for breathability, moisture wicking and the kind of wear-anywhere style that is most essential in a good basic wardrobe addition.
Everyone needs a pair of shoes they can slip on at a moment's notice. Whether it be for a middle-of-the-night emergency, a last minute trip to the grocery store, or a day at the beach, you don't want to have to fuss with your shoes when you're on your way somewhere else. These well-known and beloved shower sandals from Adidas should always be your go-to. At a great price, solid construction and incorporated Soft Cloudfoam footbed, this shoe is an essential to any well-stocked wardrobe.
Who doesn't want two belts for the price of one? Not all outfits can be paired with a brown belt or a black belt, and it all depends on what shoes you've decided to wear. For flexibility to your wardrobe without extra clutter, this reversible belt from Bulliant is a must-have. Sized accurately with actual waistband sizes—always a plus when you're shopping online—this reversible belt is made with genuine leather and you can purchase in any leather finish that best suits your wardrobe. High quality hardware promotes additional durability that won't have you buying a new built every few months.
If you don't already have a beloved pair of athletic shorts to change into the second you get home from a long day out of the house, these should be topping your list of priorities. When you want to be comfortable, but don't necessarily want the pressure of putting together a whole outfit, this 2-pack of black and grey shorts will pair well with any t-shirt in your collection.
A well-stocked basics collection is nothing without a good arsenal of athleisure. You never know when you're going to be asked on a hiking date, or have to take the dog on a walk on the hottest day of the year, so this moisture wicking t-shirt is perfect for times you might have to move around at a moment's notice. You don't want to have a wardrobe of clothes you have to constantly change out of for activity and with the addition of this loose fitting performance t-shirt, your wardrobe will be both comfortable and practical.
When you want to scale down the bulk of your usual hoodie, a crew neck sweater is a comfy, but elevated approach to loungewear. This Amazon Essentials cotton-polyester blend crew neck sweater comes in over 20 colors, has a printed tag that'll never itch your neck, is machine washable and will pair well with any pants or shorts you already own. At $15, you can't beat the price.
I'm the type of person that once I find a product I love, I become an evangelist. These Nike socks are the only ones I've worn daily in the last decade and I have no intention of stopping. They're ribbed for a strong, comfortable fit that doesn't require you to constantly pull them back up and the heels and toe are both reinforced for longevity for even the toughest wearers. The snug fit lends itself well to added arch support, making these the perfect socks for daily and active wear.
At $11, you'll want one for every room in your house and you'll never leave the house without this go-to Hanes Hoodie again. The pill-resistant poly-cotton blend allows for years and years of wear while keeping your new favorite hoodie looking as good as the day you bought it, while the double-needle cover-seamed neck and arm holes hold up to wear. The full zipper closure allows you to wear it open when you're wearing your favorite t-shirt or closed when you need a little extra warmth. Available in 12 awesome colors to go best without your unique preferences.
Whether you are a hat guy for stylish or practical reasons, you need a hat you love to be motivated to actually wear it. This mesh back cap has a solid colored front that won't compete with your more exciting wardrobe items while the back of the hat's mesh construction gives your head room to breathe. It's one-size-fits all with an adjustable fit plastic closure so you can always find your most comfortable fit. Sweat a lot? The specially designed Carhartt Force Sweatband will fight odors while also drying quickly.