4 Best Designed Wireless Mouse for Laptops
If you need a better way to get work done on your laptop, try one of these mice.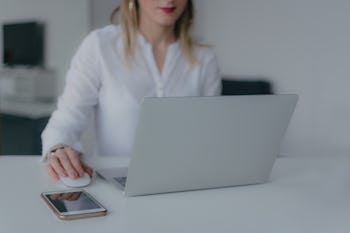 Amazon
Let's face it: Not every laptop trackpad is made equal. Some are smooth as silk, while others are frustrating to use because they just don't keep up with your movements. And then there's the issue of actually using the trackpad instead of a regular mouse—it's just nowhere near as comfortable. But you can change that by using a wireless mouse made to be used for a laptop. You can alleviate all that discomfort by trying out one of these awesome picks—next time you start using the trackpad, reach for one of these mice instead.
This smartly-designed wireless mouse is ergonomically sculpted with soft rubber grips that you can use with either your right or left hand depending on what's more comfortable. With the capability of running two years (yes, two entire years) off of two AA batteries, it'll be there for you through thick and thin, too—just toss it in your laptop bag and go. Plus, it comes in three colors to match your laptop as well. It's affordable, too, making it a powerhouse of a wireless mouse perfect for taking on the go.
Sometimes, all you need are the basics in life, and this smart black Microsoft wireless mouse is just that. It can run on one AA battery for 10 months, but it remains precise and reliable that entire time. It connects to your laptop via nano transceiver to make it simple to use on your laptop as well, and the transceiver itself stows away in the bottom of the mouse. What's more, you get 2.4GHz wireless connectivity up to a 15-foot range, which is impressive for a mouse this size and price.
This bargain mouse is cheap enough to buy quite a few of for backup (which is great since it comes in so many colors), but most importantly it's a reliable mouse that comes packing a nano-transceiver stored in the bottom and a durable build. It consumes a ridiculously low amount of power and can run off one AA battery for quite a long time—plus, it's compatible with just about any computer you throw at it, MacBook or otherwise. It's so small and cute, how could you say no to multiple?
Looking for something a little funkier then your average mouse? This fun series of wireless mice come in plenty of fun patterns from a pink fox to the American flag, but don't be fooled by its whimsical design. It's reliable, precise wireless mouse that connects easily and wirelessly. Like many of the other mice out there, it's powered by 1 AA battery, and it'll last for months without needing to be replaced. It's also set to be slimmer than many of the other mice out on the market, which should reduce a bit of the stress on your hand when using it regularly.