3 Best Cheap Lawn Mowers Under $200
Tidy up your yard with these lawn mowers.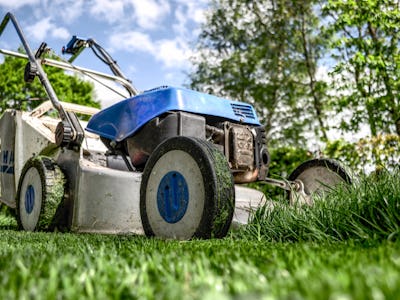 Pexels
It's an unfortunate reality of being a homeowner: we've got to mow the grass before the grass grows completely over and devours our house and starts sneaking over into the neighbors' property. But luckily, we've come a long way since the olden days where lawn mowers were laughably difficult-to-use contraptions. These days, you can get a pretty decent option for less than $200. We've rounded up three of the best out there so you can get started fixing up your yard so it can start looking a little prettier than the "swampland" it looks like from the road. Thank us later.
The Perfect Space-Saving Option
This lime-green lawn mower may be smaller than you might be used to with other brands, but it still packs a 12 amp motor into a relatively diminutive package. It comes with 3-in-1 functionality, with the ability to mulch, discharge from the side, and a rear bag for collection. It has a push button start instead of a choke to get it started, and it even folds up for compact storage.
A Great Choice For Those With Lawns That Aren't Just Grass
This push mower has a powerful mower with a large rear mounted 18-gallon container that you can release easily for clean-up. It also comes with a five-position height adjustment selector, so you can change the cutting height to tackle grass, weeds, and other debris in your yard. It doesn't have a push-button start, but it does have an easy-pull system that should make it simple to get running.
This lawn mower may be a little smaller, but it can still get the job done, especially if you have less grass to cut. It features an ergonomic grip, better clipping collection than other mowers of its size, and six height adjustments to make sure you're getting everything you need to when you to do the deed. Best of all, it's push-button start and doesn't need gas since it's electric. It's like buying the Tesla of lawn mowers!