Here Are the 4 Men's Grooming Products Every Guy Should Have
Up that grooming game with these awesome options.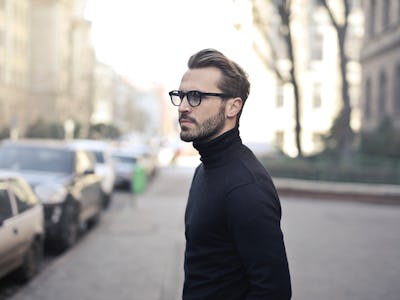 Pexels
Men are entitled to some amazing skincare and grooming products, just like women—even if it seems the beauty industry is decidedly one-sided these days. If you're a man or know one who's in dire need of a new grooming routine, share these four life-changing items with you to completely reinvent their getting ready routine. Whether a new cleanser is necessary or a new anti-aging process, these four items should get them together quickly.
This cleanser is calming, while easily stripping the day's dirt and grime off. You'll wonder why you relied only on water for so long after cleansing your skin with this bad boy, which foams up nicely and then rinses completely for soft, nourished skin. It's a little more expensive than drugstore cleansers, but it's such an awesome and versatile product that it belongs in every man's bathroom for both morning and evening skincare routine prep.
This face mask is a super-powered hydrogel sheet mask is one important part of any man's arsenal when it comes to anti-aging. It contains a serum infused with vitamin B3, collagen, and peptides, which helps bind the mask to your skin so you can throw it on your face and go about your day. Whether you wear it to bed and remove it in the morning or wear it sometimes to make it look like you've had a great night's sleep, it'll transform your skin completely—you won't even recognize yourself.
Sometimes a great shampoo can totally transform your look. When your hair's looking great, it can make or break your look. Blackwood's Hydroblast shampoo cleans hair while keeping it soft and moisturized, cuts down on shedding, and cuts down on the need for conditioner, which can often make your hair feel greasy and weighed down, even when you've just freshly washed your mane. Plus, this particular shampoo smells absolutely amazing.
After cleansing your skin from the day's dirt and grime, you're going to want to give it some serious moisture. This particular moisturizer contains blue algae extract, sea parsley, vitamins A and E, phospholipids, and a pleasant scent that makes it feel fantastic as you apply it. It dries non-greasy and will protect your skin before you layer on sunscreen and other serums. It also contains SPF 20 if you forget to put on a physical sunscreen later on.