5 Best Coding Games for Kids
You don't need to turn on a screen to teach a child to code. Just play one of these games.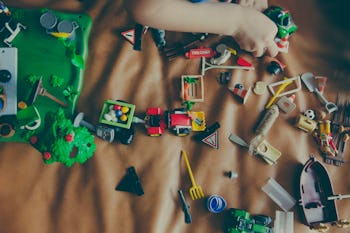 Unsplash / Markus Spiske
Learning to code is one of the essential skills kids need to survive in the future they will inhabit. Teaching this skill to a child is no big deal if you are yourself a code nerd. But, even if you aren't, you can instill the basic skills your tot—or the kids of your less-enlightened family and friends—by handing them a board game that teaches these skills through play.
Coding is the end game of a long set of STEAM skills. These skills involve logic, reasoning, problem solving, engineering, and a host of other ways of thinking and reasoning that lead to good coders. Learning a coding language is the last step in the process of becoming a facile programmer.
Here are five games that will instill these essential STEAM skills. You don't have to teach. You don't have to play the heavy. You don't have to do much at all, really, except make this form of play available.
Just pick from this list, wrap up the game, and give it. Maybe offer to play with the young one in your life. Your work here, for today, is done.
The goal in this game is to build a roller coaster and let your car ride it. So that's fun! Along the way, players will learn—without realizing that it's happening—some engineering, logic, planning, and staying within a rule set. These are all great skills if you want to be grow up and find that coding is pretty easy.
For ages six and up.
Draw a card. Follow the instructions on it to build a tower that your marble will be able to drop through. It's super fun to build. And it's even more fun to drop your marble in and see how well gravity drives it through the maze you built.
What you might not notice because you are having so much fun playing this game is that you are learning spacial reasoning, logic, and visual perception skills. These are all essential coding skills.
For ages 8 and up.
Turn off the lights. Roll the dice. And get ready to live out an immersive game play that will have you hiding, scared, and running from legends of evil.
Your game pieces will be hiding anyway. You will be having a blast and learning teamwork, logic, and problem solving.
For ages 8 and up.
This building toy from LEGO teaches some serious STEAM skills. You build three Star Wars droids, props, and more. Then send them out on some adventures.
That alone offers some hands-on experience—and hours of focused play—with engineering, linear problem solving, and much more. But it also comes with a color and distance sensor, interactive motor, Bluetooth Move Hub, and an app to run it all. To make that all work, your kid will be doing some real coding. Simplified coding. But coding.
The end result here? A kid who enjoys building and programming hardware. And that is a skill she will take with her well into the future.
For ages 8 and up.
If you are counting the years till your child is ready to build that Star Wars Droid kit above, start here instead. This is a Duplo building kit that packs a lot of STEAM lessons into one package for the younger set. There is an optional app if your child is ready to do some basic coding and bring it all to life. Fun and learning? Why isn't school like this?
For ages 2 and up.