The 9 Most Comfortable Walking Shoes for Men
Not all of them are sneaker-y looking, either.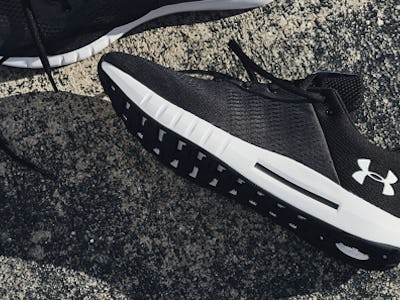 Amazon
There are plenty of shoes that are comfortable enough for everyday wear, but the most comfortable walking shoes for men are few and far between. While walking may seem like a low-intensity activity, the same motion over and over again can turn a seemingly well-fitted shoe into a source of friction and discomfort. When shopping for a pair that can handle the moisture, abrasion, and movement associated with extensive walking, it's important to look at all different components.
First, consider the fabric or material. Leather and textiles are good choices for walking shoes, since they're breathable and allow moisture to evaporate; moist environments are much more likely to promote chafing and blisters, so mesh weaves, ventilated panels, and sweat-wicking fabrics are worthwhile features.
Next, take a look at the sole, which is comprised of three main parts: the outsole, the insole, and the mid-sole. Together, these sections make up the entirety of the platform that sits underneath your foot. The outsole is the exterior part that touches the ground, and on a good walking shoe, it should provide enough traction and durability for repetitive movement. The insole is the interior part that touches your foot; most quality walking shoes use foam or thick padded fabric to support the arch, maximize comfort, and absorb shock. The mid-sole is not always present on every pair of shoes, but when it is, it sits between the insole and outsole and offers an extra layer of cushioning.
Finally, pinpoint a style that you like and will suit your needs. While most features in this category are a matter of visual preference, some are practical, like the presence of laces to personalize your fit, or a high-top design to offer weather protection and ankle support. With all that in mind, here are nine of the most comfortable walking shoes for men.
With over 6,700 rave reviews, these Skechers memory foam sneakers are a fan favorite for being super comfortable—even after walking tons of miles. Made of leather that's dotted with mesh inserts for extra breathability, this shoe has a high-traction rubber outsole and a lace-up style with a cushioned mesh tongue for extra foot and ankle support. The memory foam insole means optimal cushioning with moderate arch support and shock absorption. You get your choice of eight colors and many sizes are available in an extra-wide option.
Reviewers say: "The shoes fit well, are very comfortable, breathable, look great, and stay clean looking with almost no maintenance. I love the memory foam on the inside. It holds up well and feels good around the toes, especially when you first put them on. I wear these all day to work and put on probably 4-6 miles per day walking."
If you're looking for something breathable, comfortable, and affordable, look no further than this slip-on shoe. Despite the fact that none of the 14 color options will cost you more than $26, reviewers have given them a 4.3-star rating because of their extreme comfort and convenient slip-on design. The exterior is made out of a breathable mesh-elastic textile, the outsole uses flexible EVA, and the insole is cushioned and removable. They may not be the most durable shoes, but reviewers are astounded with the quality for the price.
Reviewers say: "These are lightweight, comfortable walking shoes. Construction is clean, and the fit was good. I liked the first pair well enough to order a second pair for future use."
For those who are looking for a pair that blurs the line between walking and running, the Under Armour Micro G Persuit shoe can stand up to both low-intensity movement and higher-intensity athletic activities. It has a lightweight, streamlined design despite the thicker outsole and the addition of a dense foam midsole, both of which provide more shock-absorption than other options. The lightweight mesh upper allows moisture to evaporate, and the built-in sock liner further wicks sweat away from the foot. This shoe is available in ten color combinations, and reviewers love that it doesn't require a break-in period—and that it works for almost any activity.
Reviewers say: "Best running and walking shoe! Also good for casual wear around town as well." A second buyer wrote, "Super comfortable and lightweight. These are the 3rd pair of UnderArmour shoes I have owned and by far my favorite."
With a cooling memory foam insole and a breathable fabric upper, you don't have to sacrifice comfort for style with this pair of fashion sneakers from Skechers. The key to why these are so comfortable is the memory insole made of three different layers. The moisture-wicking top layer keeps feet dry, while a gel-infused middle layer helps relieve pressure. Finally, the molded base layer keeps the support going while remaining lightweight. The high tongue and laces provide ankle and foot support to the rest of the foot. Add to that a sturdy synthetic outsole and you've got a great shoe that has won a 4.5-star overall rating from Amazon reviewers. It's available in six colors with wide sizes available, too.
Reviewers say: "I feel like they mold to your feet and are so light you don't even feel like you're wearing shoes. I bought these right before I went on a trip to Italy. We walked on average 12 miles a day for our 10 day trip. I can honestly say my feet didn't hurt once."
Not all walking shoes have to look like casual sneakers. The Search Loafer from Skechers is available in four colors and features a 100-percent genuine upper for a more elevated appearance. For that reason, it can be worn with slacks, dress shorts, or work attire without looking out of place—but the rubber sole and gel-infused memory foam insole ensure that it's still well-suited for extensive walking. The pull-on design is convenient and comfortable thanks to the elastic panels, and the bottom is textured for superior traction.
Reviewers say: "I needed a black pair of skechers for work, as my current pair are old. I found these and loved the looks of them […] I walk 2 miles to work each day and had no issues. I even ran to the train with no issues."
Crocs have always been known for their comfort, but the day has come when they're also known for their fashion sense. The Santa Cruz Playa sneaker comes in khaki, slate gray, or black, and its textile upper, flat laces, and contrast detailing make it a shockingly attractive shoe. That said, the canvas also ensures that your foot stays dry and well-ventilated, while the Croslite outsole and cushioned insole keep you stable and supported while walking long distances. Buyers also rave about their durability, saying that they still look like new after months of walking miles a day.
Reviewers say: "Amazing shoes! They are very comfortable to walk in and boy do they look great. They match well with above-knee shorts (make sure to wear no-show socks!), jeans, chinos, etc. I specifically bought it for a wedding in Hawaii and it went great with khakis and my Hawaiian-style shirt."
If you're looking for a durable, versatile shoe for your next vacation or adventure, the ECCO Biom Venture shoe is the best-suited option for travel. For one, the yak nubuck leather upper is durable, lightweight, and flexible—and it has a special waterproofing treatment that keeps your feet dry and clean regardless of the weather. For another, the interior is specifically designed for an ergonomic, glove-like fit that enhances your movement, supports the integrity of your foot, and adapts to your environment to keep you as comfortable as possible. That way, whether you're hiking up a trail or bar-hopping in a foreign city, you're prepared.
Reviewers say: "Most comfortable travel shoe I've ever experienced. [Purchased] for a 4 week trip through Laos and [Thailand]. Held up well to hiking, stair climbing, rain, mud, dirt and dust … and remained exceptionally comfortable."
The Skechers Go Walk 4 walking shoe is the best slip-on sneaker for several reasons, including the lightweight mesh design, the thick rubber outsole, and the bamboo-lined interior that wicks away sweat and prevents odors better than most other materials. That said, it's definitely the best pick for those with wide feet, since it comes in half sizes, wide, and extra-wide. It also features a flexible exterior that adapts to your foot much more effectively than laces and stiff materials. Available in seven different colors.
Reviewers say: "These shoes are the best and most comfortable shoes my husband has ever had! He loves them and can't wait to get another pair so that he can have a pair for every day wear and for more casual/dress wear! He has extremely wide feet and has always had trouble finding shoes but has never found a pair that fit as well and are as comfortable as these."
For terrain that's a bit more intense, the Columbia Newton Ridge Plus II hiking shoe has a superior-grip rubber outsole, seam-sealed construction that's entirely waterproof, and interior padding that keeps you comfortable long-term. This pair also features a lightweight mid-sole for added impact-absorption and comfort, and its laces fasten all the way up the high-top design for a snug, secure fit. The exterior is made from a combination of leather, suede, and mesh for a breathable shoe with optimal moisture-wicking capabilities. Get this pair in seven colors and a large range of sizes, including wide.
Reviewers say: "As a novice hiker, I worried about how these boots would work. I broke them in on Wright Peak in the Adirondacks outside Lake Placid over the Memorial Day weekend in 2019 […] The comfort during the 6 miles hike and 2,400 feet of elevation change was outstanding throughout."