Samsung Debuts Ultra High-Definition Blu-ray Player
We were just getting the hang of this!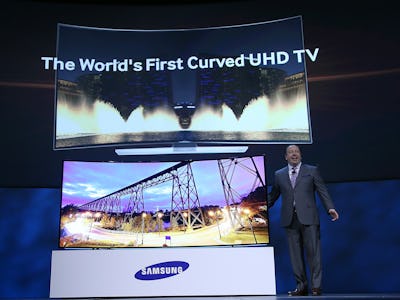 Justin Sullivan/Getty Images
It kind of feels like Blu-ray has just been accepted as the new standard for at-home movie-watching. Well, in an effort to keep you scrambling to stave off obsolescence, Samsung introduced the world's first ultra high-definition (UHD) Blu-ray player, CNET reports. Debuted in Berlin, the UHD player will offer four times the resolution — known as 4K — and 64 times higher color expression than the current Blu-ray player. It's supposed to cost less than $500 and will be available in the United States and Europe early next year. C'mon, seriously, guys? Couldn't you have at least said 2017 or something? 2017 feels like it's a long way off.
The UHD player will be able to play higher definition discs, too, which means that all that money you spent buying Blu-rays of the DVDs you already owned on VHS is now closer to being a total waste. There's nothing wrong with Samsung continuing to update its technology; it's a pretty good thing, in reality. What's not great, though, is the continual strain it puts on your wallet when trying to keep up. Obviously, Samsung is not alone in ushering out its own products (see: Phone, i), but movies have a sense of permanence. Nobody needs seven copies of Citizen Kane in their collection.
Ultimately, Samsung itself is likely scrambling to keep up with the times. Streaming is becoming the new norm, dissuading people from buying hard copies of movies in the first place. In addition to the UHD player, Samsung is looking into a partnership with Gamefly for streaming video games. The partnership interest indicates they're looking into a console (à la Sony's PlayStation) that would serve as the base for not only higher-quality discs, but also the highest quality on-demand offers. A new, better Blu-ray player is fine but expensive and a bit out-of-touch. A brand new high-definition streaming device would actually be worth the price.