Best Standing Desks Under $500
When sitting all day starts to hurt after all while, try one of these.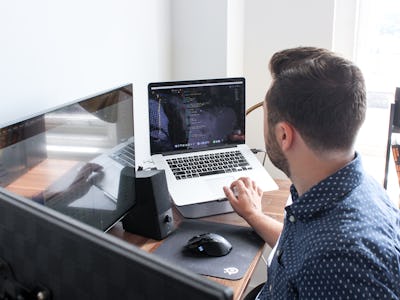 Unsplash / Madison Yocum
From the moment I wake up and sit down to work, I'm sitting down all day. If I didn't intentionally take breaks to stretch or walk, all of my days tasks except for preparing meals, showering or getting ready for bed would be spent sitting down. When I miss my usual walk or stretch because I get too immersed in work, I find myself suffering from the all-too-familiar tailbone pain I experienced every single day before I started taking time to stand. From my conversations with other freelancers and others who work desk jobs, this discomfort is not at all unique to me.
Sitting down, it can be hard to police your posture so that you're evenly distributing your weight and in my case, the longer I sit, the worse my posture gets. Innovators and medical professionals have come together to offer the brilliant solution of adjustable height desks that allow you to use them with chairs sometimes, but also break up the day and bring them up to an appropriate standing height for a break from sitting that doesn't take away from your work. On this list, you'll find the best standing desks available on Amazon for under $500.
For People Who Like A Large Work Surface
Why We Picked It: If you like a large work surface, be it for multiple monitors, drawing, or outfitting your desk with a robust collection of your favorite pens, pencils, highlights, scissors and bobbleheads, this Flexispot 47-Inch Standing Desk offers the perfect breadth of space for someone who likes to spread out. Easy to lower and rise with just one hand, this standing desk features a quick release keyboard tray so that you aren't further sacrificing space for your keyboard. It also has a wide range of height options so you can use it while sitting or bring it to your ideal standing height no matter how tall you are.
Why We Picked It: While this option certainly has the keyboard tray that the aforementioned product also has, but sets itself apart by sitting on top of your existing desk making it perfect for those that don't work from home and instead work in a fully furnished professional office environment. The built-in gas spring hovering system allows you to use this standing desk as a posture-improving monitor raiser while you're sitting or raise to your preferred height for a change of pace while you stand.
Why We Picked It: If you're the type that doesn't like to the routine of working in the same spot in your house or office every single day, this mobile standing desk is the best option for you. It's on wheels so that you can work by the window one day, in the dining room another day and anywhere else the mood takes you. Once you find a place you like, you can use the dual locking braces to keep your desk in place. At 32 inches in work space, this is the perfect compact option for someone with only one computer monitor.
Why We Picked It: If you like a straight forward design aesthetic to your work space, this adjustable desk is perfect for you. It has a wide, light colored table top and boasts the convenience of a fully motorized Electric Lift System that will remember your height preferences when you shift from using it from a sitting desk to using it as a standing desk. The conveniently placed grommets allow you to conveniently hide, secure and organize your cords so they're never in the way. The industrial strength legs will last you through years of adjusting your desk height.