The Best Solution for Visitors When You Don't Have a Guest Room
Burrow offers a unique solution to hosting overnight guests when you don't have a guest room.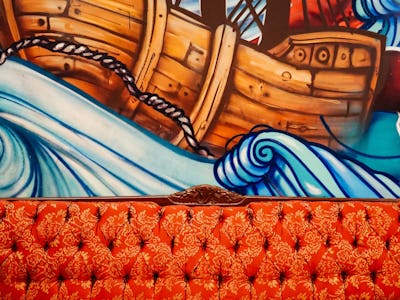 Unsplash / Dan Gold
You may have moved out of your parent's house and then your college apartment into what you're affectionately calling your "first adult apartment." However as much as you love your space, your first adult apartment doesn't necessarily come with an extra bedroom and your wallet likely doesn't have the wiggle room for a second mattress anyway. Your apartment might not be in your hometown or your college town or anywhere your lifelong friends actually live and obviously you want them to come visit. But you're not a college student anymore and neither are your friends and sleeping on the floor just isn't the option it used to be.
Instead of relegating your friends and family to the costly expenditure of an Airbnb, you could opt for Burrow's brilliant solution to hosting guests comfortably when you don't have a guest room. They're calling it the Sleep Kit and while it fits their 3-seater couch the best, it is designed to fit most 3-seater couch options with ease.
At less than half the cost of your average mattress, the Sleep Kit is an absolute steal. It doesn't take up a whole room like a guest room does and instead, you can get your money's worth out of your couch and living room. It's better than an air mattress or usual pull out bed because everything is designed with comfort and functionality in mind—no one prioritized more than the other. Unlike air mattresses, futons and other compact sleeping solutions, there's no part of the Sleep Kit that can actually break. There are no batteries to replace, no holes that can form and let air out and not one hinge present that might jam and render your sleeper sofa unusable. Instead, the Sleep Kit features a memory topper that easily rolls back up into the included bag in addition to custom sized blankets, sheets and a pillow case that can all be thrown right into the wash as soon as your guest leaves.
Perfect for small spaces that won't accommodate a full-sized air mattress, the Sleep Kit doesn't require you to rearrange any of your furniture to use it. All you have to do is remove your couch's back cushions to provide a wider sleep surface, set the mattress topper atop your cushions, use the custom sized sheets to snuggly fit the topper over your cushions so that your guest isn't slipping between the cushions all night, and your guest bed is ready to go. Simply finish making the bed with the quilted blanket that when used with the sheets and memory foam topper will keep your guest at optimal sleeping temperature—never too hot or too cold—and specially sized pillow. Give your guest the eye mask to borrow if they're not a morning person and from there, your guests will rave about your ingenious hosting capabilities and will be far more likely to visit.
For the one-time investment of $350, the Sleep Kit will last you for many years to come so that you always have a place for a friend, relative or out of town guest to crash at even a moment's notice. You can't beat the convenience or comfort of this one-of-a-kind product.