Virtual Reality Transforms Super Adorable Dog Into Less Adorable Space Slug
Who's a good space worm?!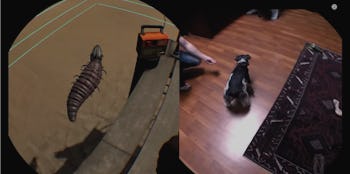 YouTube.com/BrandonJLa
California game developers Stress Level Zero have created a way to bring your pet into virtual reality. Called VR Pet Tracking v. 0.1, it plays a critical role in giving pooch Bandit the full Tremors treatment, as you can see in the YouTube video below. Nobody would describe the Bandit-worm as fetching, sure — but there is something charming about a slug that can fetch.
The software is part proof-of-concept, part goofing off with a HTC Vive. But the video does showcase a neat application of VR — who wouldn't want a little furry companion in space that that actually licks your hand or purrs when you pet it? Or have their kitten play the role of Dog in a Mad Max virtual world?
Plus, as one of the Stress Level Zero folks points out, if your animal is wearing a VR tracking device while you're jacked in, that reduces the chance of Fido getting trampled underfoot.