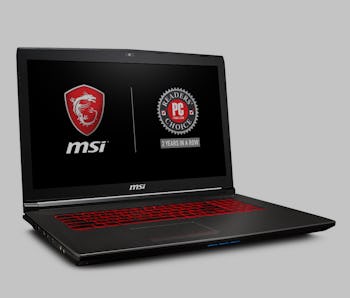 Innovation
The Best Gaming Laptops Under $1500
Get your game on with these laptops. 
Amazon
A decent gaming laptop can easily cost you over $1,000, and a great gaming laptop can easily run well over $2,000. Basically, a gaming laptop is always something of an investment, but you can definitely meet in the middle of "decent" and "great" with a budget right at $1,500. If this is the price range for you, here are four laptops that should definitely be at the top of your list to check out.
HP's Omen lineup has is usually a solid option to look into, and for $1,500, you can grab the Full HD (1920x1080) 15.6-inch HP Omen with a 8th-Gen Core i7-8750H processor, 16GB of RAM (upgradeable), RTX 2070 w/ 8GB, 128GB SSD, and 1TB HDD. Add in an assortment of ports any gamer could want, and this is a very good Omen pick. If you want to save a little money without sacrificing a ton of power, you can downgrade the graphics card to a RTX 2060 with 6GB VRAM instead.
If you don't mind sticking with the GTX line of graphics cards instead of the newer RTX options, the Acer Predator Helios 300 is definitely an option worth looking into. The GTX 1660 Ti with 6GB isn't anything to scoff at, and the highlight of this laptop is that it ships with a 9th-generation Core i7 processor. Other specs include 16GB DDR4 RAM, 256GB M.2 SSD, and an available hard drive bay to upgrade the storage even further.
MSI makes some fantastic laptops, but it's a name that tends to get overlooked. It shouldn't. It brings solid hardware to the table, and it's usually quite a bit cheaper than the competition. This particular model offers up a large 17.3-inch FHD display, 8th-Gen Core i7-8750H, 16GB RAM (upgradeable to 32GB), 256GB M.2 SSD, and a 1TB HDD. The NVIDIA GeForce GTX1060 3G GDDR5 is no slouch, either, but it lacks a bit of the oomph from the Predator Helios above.
Another nice offering from MSI comes in the form of the XPC GL63. While it ships with the slightly less powerful 8th-Gen core i5-8300H, that's made up for with the RTX 2060 graphics card with 6GB VRAM. One thing that's going to be a drawback from some is its limited storage. It's only a 256GB NVMe SSD, which is quickly going to get full pretty quick if you plan on installing some bigger games. Nonetheless, this is a decent laptop that's under $1,500, and it's even VR ready, to boot.