It's Time to Upgrade Your Coffee Table 
These coffee tables will look incredible in any bachelor pad.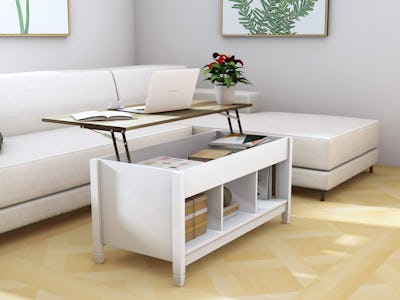 Amazon
I hate to break this to you, but your mother is right: As an adult, it's no longer cute to use an old pallet or some milk crates for a coffee table. Now that you have your own place, it's time to take some pride in it, and nothing pulls a room together quite like a good coffee table. Whether your style is rustic, modern, or just functional, there is a coffee table out there that'll totally set the mood of your living room. Here are some options to get you started.
If your style straddles the line between rustic and modern, this coffee table is for you. With metal legs, a simple design, and a light brown stain, this table will elevate your living room into an HGTV worthy space.
You don't have to sacrifice style for function. This sleek table is perfect for small spaces and converts into a nifty life-top so you can comfortably do work from home or even splurge on a meal in front of the TV.
For dudes who like an updated style with a vintage touch, this coffee table is perfect. It's got a trendy 60s mod feel but has all of the trappings of being a fresh piece of solid furniture.