Get Ready for Fall Adventures With These Updated Wardrobe Staples
Autumn wardrobe essentials you'll want sooner than later.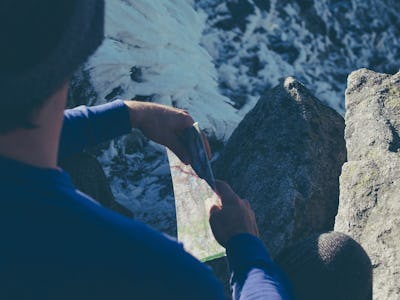 Unsplash / Michał Parzuchowski
Summer's not quite over yet, but autumn is fast approaching as we start booking our calendars for the months ahead. If you have planned a camping trip, started talking about possible Halloween plans, started looking ahead to the eventual bonfires or just want to bring something new to what you'll wear to casual events and work once the weather shifts, you can't miss these essential items from Huckberry and Macy's.
From the perfect comfy tee that layers well with anything to your new favorite goes-with-everything belt and a pull over that keeps you comfortable in a wide range of temperatures, a simple update to your wardrobe could enhance the quality of your life for the months—and even years—that you get to enjoy your neccessary purchases. So, what are you waiting for? It doesn't hurt to browse. You might even find something you like.
The All-Weather Pull-Over
Why We Picked It: Not only are the available colors—Navy and Olive—subtle enough to pair with anything, but the lightweight and fast-drying nature of this shirt lends itself well to weather resistance. The incorporated vents allow for added breathability while the stand-up collar allows for sun coverage if necessary. Four-way stretch fabric allows this to be a shirt that moves with you and not against you.
The Stylish Simple Shirt That Layers Well With Anything
Why We Picked It: There's a place for a plain black t-shirt but it's not what you always want. For when you want the feel of a simple black t-shirt with the benefit of an attractive graphic that adds some interest to your outfit, look no further than this MTNS design from Bridge & Burn. Layer it with your favorite flannel or the above pullover for a cohesive look that keeps you comfortable—even in the great outdoors.
The Sneaker That Looks Like A Dress Shoe
Why We Picked It: If you're not necessarily into the aesthetics of athletic shoes as your go-to shoe, but you like the freedom of movement and casual style that sneakers lend to your lifestyle, you'll love this awesome leather-look sneaker from Macy's. They're laid back while still doing more for your outfit than your gym or hiking shoes and a must-have for the days you're not out adventuring but might still find yourself on the move.
The Belt You Can Dress Up Or Down
Why We Picked It: Dress-up occasions aren't the only time in life you need a belt. For outdoor hikes, backyard bonfires, hay rides and more, this Rubber-Bonded Leather blend belt will stretch up to 2 inches to accommodate a night of heavy carb loading and will hold your pants up in wherever you need it to. Available in Navy/Blue and Khaki, get one or get both and you'll find your wardrobe has more functionality than before you bought it.
The Hat You'll Never Leave Home Without
Why We Picked It: If you're a hat guy, you can never have enough hats because you're always on the hunt for your next favorite hat. Allow me to introduce it to you. This ventilated trucker hat has a stylish pairing of neutral navy with classic tan as well as a custom Fishpond patch for a look that feels unique to you with much necessary comfort. The adjustable snapback construction allows you to fit it perfectly to your head so you never get a headache from it and can wear your new favorite hat to your heart's content while you experience all of fall's unique adventures.