Paris Goes Car-Free for a Day
The event, organized by the city's mayor, will attempt to address new sustainable transportation methods.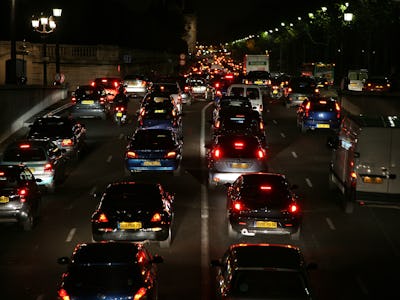 Getty Images
Pollution and traffic congestion is endemic in any major metropolitan city. Paris, a car-centric city that has had to deal with its own bad air quality of late, is introducing a novel idea to at least raise awareness about how ridiculous all that gridlock can get.
Take a stroll in the middle of the Champs-Élysées, go for a spin on your bicycle around the Place de la Concorde, or whatever your little environmentally conscious French heart desires because from 11 a.m. to 6 p.m. on Sunday, September 27, the city of Paris will go car-free.
Tourist spots around the city will be targeted. Specifically, the 1st, 2nd, 3rd, 4th, 5th, 6th, 7th, 10th and 11th arrondissements, the Champs Élysées, Place Stalingrad, Place de la Republique, the Left Bank, the Place de la Bastille, the Eiffel Tower, the Bois de Vincennes, and the Bois de Boulogne will be particular havens for pedestrians.
The half PR stunt/half attempt at taking a stand against stifling pollution, officially called "Journée san voiture," was cooked up by current Paris mayor Anne Hidalgo, who hopes the idea will get Parisians and citizens of other major cities talking about more sustainable modes of transportation. It's set to take place a few months before the United Nations' major climate change conference COP 21, which is happening in the French capital in November.
Before you get all worked up for some completely eerie, 28 Days Later-esque photo ops, there are some major exclusions in the rules for people whose primary means of conveyance involves four wheels and an internal combustion engine. Public transportation, taxis, delivery trucks, and emergency vehicles will still be allowed, while residents can still drive if they need to get to a closed off area as well. But God help anybody moving into a new apartment that day, they're pretty much screwed.
Though it seems Paris won't go completely car free, it's still a great idea that will get people thinking about a car-free city of the future or other green solutions to the urgent problems facing the planet.