These Cold Brew Coffee Makers Are Perfect for Your Home
Make the concentrate in your refrigerator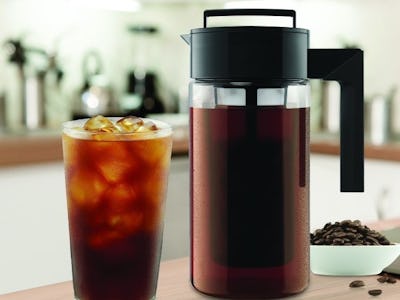 Amazon
There are a lot of advantages to cold-brewing your coffee. By steeping coffee grounds in cold water for a long time, you can extract the flavorful compounds that make coffee taste good. But you don't have to worry about the bitter oils or fatty acids that make coffee bitter and acidic. They don't dissolve in the cold water, so they stay locked in the beans, giving you a smooth, balanced coffee without the acid that can make some coffees unpleasant.
Cold brew coffee makers use a mesh filter to hold the grounds during the steeping process, which can last 24 hours. Once the coffee has brewed, remove the filter and the grounds and you're left with a concentrated coffee you can pour over ice for a refreshing summer drink. The concentrate can also be mixed with hot water if prefer your coffee hot.
Cold Brew Mason Jar
Why We Chose It Cold brewing can't get any easier than this. You simply put grounds in the mesh filter, add water to the Mason jar, and steep it overnight. The filter is a super-fine stainless steel mesh that's designed to last a lifetime and keep the grounds separate from the coffee. The coffee maker has a flip-cap lid attached to the handle so you can pour out the amount of concentrate you need. You can use the infuser/filter for other things too, including making cold-brewed tea, infusing water with fruit flavors, and infusing oils with spices. All the components are dishwasher safe.
Large Capacity
Why We Chose It Coffee Bear uses a nylon mesh filter in place of stainless steel, so there's never any metallic or rust taste in your coffee. This tall, thick, heavy-duty glass pitcher is designed to fit in a compartment in the refrigerator door so it's not eating up precious real estate in the fridge. It comes with a removable non-slip base for extra grip. With the 44-ounce pitcher, you can make enough concentrate for several days, then use the flavor-locking lid to keep it tasting fresh.
Shatterproof Pitcher
Why We Chose It Takeya uses a BPA-free plastic called Tritan to make the pitcher on this cold-brew coffee maker. The pitcher is shatterproof and dishwasher safe. The fine-mesh coffee filter will work with any kind of ground coffee. The coffee maker also has a no-slip grip for easy transport and a lid that's so airtight you could store the pitcher on its side when there's liquid in it. This one-quart pitcher will make four servings of cold-brew coffee if you drink it iced. For hot coffee, mix one part concentrate with about twice as much boiling water.
Easy Measuring
Why We Chose It Ovalware is all about precision brewing. That's why the 34-ounce carafe has clearly marked water levels on the glass – so you can add just the right amount of water, based on how much coffee you're using. The filter is made of rust-free stainless steel mesh. The carafe is an extra-thick glass with a handle for easy pouring. The coffee maker also has a silicone seal that's so airtight it'll keep your brew tasting fresh for 14 days, assuming you don't drink it all a lot faster (and you will). The pitcher will easily fit in your fridge, and you can run it through the dishwasher.