3 Planners That'll Actually Inspire You to Get Your Life in Order
Get it together--and keep it that way--with these old-school planners.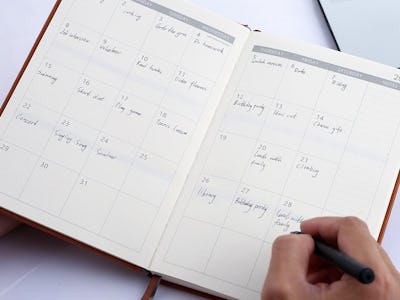 Amazon
Getting your stuff together in the digital age is hard. Whether you're haphazardly"jotting" down your to-dos in your phone's Notes section or filling out your email calendar, electronic life planning is full of distractions. As you write down your weekly plan, you're barely through Tuesday, and you've already checked your texts, Facebook, and Snapchat. Sometimes going analog really is best. To help you get organized and stay that way, here are some old-fashioned planners we love.
If you're more of a visual person, this planner is super customizable with stickers to help you keep it together. With a simple layout, no dated pages, and great spacing, you can make this planner totally your own.
This planner doesn't just organize your calendar. This little number is great for getting motivated, meditating on things you're grateful for, and daly affirmations. Organize and destress at the same time—talk about a win-win.
Perhaps in order to get it together you need to keep it simple. This very direct planner has a convenient monthly and weekly calendar, stickers to section off the months, and a pen holder. Plain, efficient, and to the point.