The J.D. Salinger Biopic Starring Nicholas Hoult Looks Iffy as Hell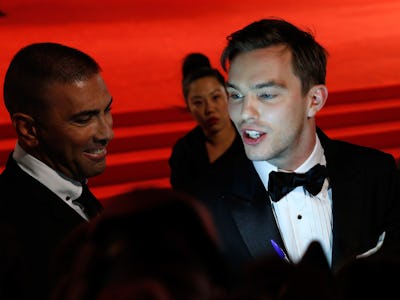 Getty
J.D. Salinger — notorious recluse, champion of angsty teens, staple of high school reading lists — is finally coming to the big screen in fictional form for the first time. Nicholas Hoult, known for playing Tony on Skins, R in Warm Bodies, and young Beast in the X Men franchise, will star as young Salinger.
The biopic will have the comically terrible title Rebel in the Rye and it will be written and directed by Danny Strong, who wrote The Butler, the final two entries in the Hunger Games franchise, co-created Empire, and most importantly, played Jonathan on Buffy The Vampire Slayer.
To recap: the title is appalling, the star is more known for having dated Jennifer Lawrence than for his work, the book it is based on has been criticized for too strongly equating Salinger with Holden Caulfield — something the title of the film suggests it's sticking with — and, writing and acting aside, Danny Strong only has one other directing credit to his name. Does this movie have any chance whatsoever of being good?
Strong and Hoult are both not untalented, and Salinger has a strong multi-generational following, so it might not be completely dead in the water. To go off of Holden himself,
"I am always saying "Glad to've met you" to somebody I'm not at all glad I met. If you want to stay alive, you have to say that stuff, though."
We're definitely glad this movie is being made.