Best Laptop Backpacks Perfect for Your Everyday Commute
A great backpack will make your commute more fun and functional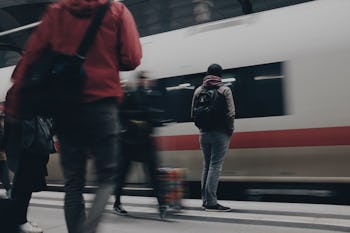 Unsplash / Mike Kotsch
What do you use every day, wear on your body, and rely on to keep your work life safe and dry?
A backpack.
Don't carry a crappy bag you got at a trade show every day. This pack is an essential. It should reflect who you are, carry your gear effectively, look good, and not hurt your back.
A good backpack can help you flow through your commute, keep your essentials at hand, and last a long time.
We rounded up five bags that you will love for this job. You have only to narrow it down to the final contender.
This will look good with your work ensemble as you commute. But it is also super functional. It's water resistant so your gear will stay dry if you get caught in a shower. It has side pockets for your water bottle. And the top opens wide so you can see and easily find all the contents.
The outside pocket will hold essentials you want to reach without opening up the entire bag. And there is a secret pocket against your back where you can stash your wallet or other valuables.
If you live out of your backpack, you probably want something with a serious build quality and features that will help you move through the world with less hassle. Enter the Nomatic.
It is designed to be carried, with a chest strap that helps distribute the weight off your shoulders. But it looks great, like something you would carry to an office not to the top of a mountain.
It is rich with thoughtful features that will make your life easier. There is a retractable key leash, water bottle pockets that close with a magnet and get out of the way when you aren't using them, and an expansion feature that lets you accommodate a weekend's worth of gear or just your daily haul.
Great zippers, a quality waterproof fabric, and smart pocket system make this a pack you will use for years.
This pack comes in so many color combinations, you will be spoiled for choice. It also has a couple of great features you will love.
The shoulder strap takes care of your back so you can fill this thing up without hurting your neck and shoulders.
It has a side-access laptop area that keeps your laptop — and maybe a few other items — separate from all the crap you jammed into the main pack. And it's simple so you won't lose everything into a million interior pockets you forgot were there.
This is big enough to take you away for the weekend. But it's also perfect for a daily commute.
There is a pretty good chance that you trusted a Jansport backpack to get you through school. Why not upgrade to a Jansport designed for the real world? That's the JanSport Hatchet Backpack.
It has all the well-thought-out features you would expect from the company that so many people trust to carry their daily gear, from shoulder straps to a real water bottle pocket to the laptop sleeve to compression straps that help it adjust to the load you are carrying.
Every detail has been thought through on this pack from Swedish outdoor company Fjallraven. And then the details that aren't necessary have been eliminated, leaving this pack loaded only with the necessary.
Shoulder straps, a laptop sleeve to fit a 15" laptop, beauty, comfort, and simple usefulness. This will last ages and carry your gear for you daily commute — and everywhere else you go — for many years to come. It will look good doing it, too.