5 Great Messenger Bags Under $100
Snag an affordable messenger bag to get you through any situation.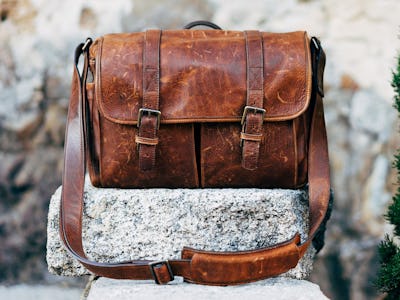 Pixabay
No matter what you need to haul around on a daily basis, you can't go wrong with a messenger bag. They're always more stylish than a backpack, and have plenty of pockets and compartments to store anything you may need. Plus, you can wear it like a crossbody bag to help distribute the weight of what you're carrying. The good news? You don't need to break the bank to get a good, reliable bag. We've got plenty of great picks under $100 that'll help you haul your stuff while looking classic and up-to-date in the fashion world.
This model is just about as classic as it gets. This canvas messenger bag comes in several colors and features an extra-large main compartment, side pockets to hold water bottles, front pockets, and more. There's also a zippered pouch on the inside to make sure all of your smaller items are corralled in one place. Plus, it closes with Velcro at the front to make sure you can get to your items as easily as possible. It's super versatile, and that's great news for anyone on the go.
Snag this stylish canvas messenger bag that resists water in four different color ways, and you'll always be ready to take it on the road. It's large enough to carry a 15.6 inch laptop, comes with a thick, sturdy shoulder strap, and a durable top handle to carry it around as a briefcase, if you prefer. It's a great unisex option for anyone to take to work or school, and it's got plenty of large, roomy pockets that can hold anything you need.
All eyes will be on you when you enter the room with this gorgeous leather messenger bag, made from the genuine article. It uses YKK zippers, a buckle closure for the front, and fluffy fleece fabric lining inside to help protect your electronic objects and other valuable. Its main flap hides an internal zip pocket, a slip-in inner pocket, and adjustable shoulder straps so you can sling it over your shoulder or wear it as a cross-body bag. However you decide to wear it or what you pair it with, you'll be able to make a fashion statement with this attractive and affordable bag.
Need a messenger bag that's sporty and contours to your body more? This nylon bag comes in a huge variety of colors, it's lightweight, and features plenty of pockets with zippers to keep your belongings safe. Plus, it comes with a pom-pom fur keychain to keep things fun. It includes RFID blocking card slots to keep your identity and personal information safe, and it's easy to wipe clean should you get into anything messy. It's super cheap, affordable, and if anything happens to it, you can get a new one easily. This may be your new favorite messenger bag.
This low-profile and durable nylon messenger bag has a main compartment that's perfect for laptops up to 17 inches, feature large side pockets for water bottles and beverages, and tons of pockets on the front meant to hold keys, badges, phones, and more. It also features a long, durable strap that will keep it at your side and accessible, with feet on the bottom of the bag to keep it from getting dirty or scuffed while you're taking it around town.