4 Matching Outfits Every Nerdy New Dad & Baby Needs
Whether raising a future beer geek or dino nerd, these sets are perfect for you and your newest sidekick.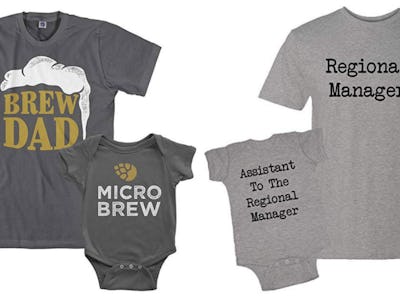 Amazon
Something happens when you become a father. Suddenly, you wonder if your partner is trying to air condition the whole neighborhood by leaving the door open. You now appreciate a sensible cargo pant. And for the life of you, you cannot resist a cheesy pun. That's where these amazing matching dad and kid t-shirt/onesie combos come in. Check out these pun-tastic and swuper adorable sets that at least you'll get a chuckle out of every time you put them on.
Forget Baby Shark—this dino duo is far more adorable and way funnier. It works whether your little Jurassic terror is a boy or girl, and is sure to earn you high-fives if worn in tandem at the grocery store.
For dads with kids that look like little carbon copies, this set is perfect. And while it's totally a silly little shirt, is there really anything more poetic than the visual of your kiddo being a piece of your whole that just sprung from you? Brb crying into my NY style pizza.
For beer geeks who morphed into dads this t-shirt is pretty clutch. If you're cool with hanging out with your baby at a beer garden (which, during the day, you totally should be) this little set is just perfect. It comes in an array of colors and sizes to tailor fit your parental preferences!
I mean, does it get much better than this? I live for a good food pun, and this perfectly designed little set is just too cute not to snag. Don't wait until Father's Day to grab this, it works for literally every Taco Tuesday of the year!
The Office fans will absolutely lose it over this adorable matching set . If your kiddo is the Dwight Shrute to your Michael Scott, you NEED this outfit.