Invest in This One Pair of Sockless Shoes Now for Dry, Ungross Feet for the Rest of the Hot Season
Going sockless was always a gross idea --until now.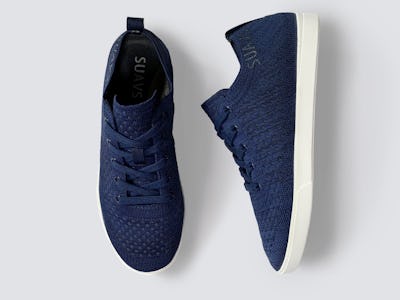 Suavs
It's only natural that in the dead heat of summer everyone wants to wear less. It's just too hot for unnecessary layers. And when it comes to superfluous summer layers, socks are always public enemy number one. Really, who wants to wear socks in 95-degree weather? But unfortunately, the idea of going sockless in anything other than flip flops has always been, well, gross…until now.
Suavs has taken the footwear industry by storm and their Zilker shoe is outrageously popular. The Suavs Zilker was designed to be the low maintenance shoe that works for all occasions. Made from a premium digital knit, the Zilker's are breathable and sweat-wicking. Put all of those things together and you have an appreciably comfortable shoe.
But the designers didn't stop there. The Zilker is also lightweight, the insoles are washable, and they can be packed or rolled flat for travel. Suavs were designed to give you all-day comfort. Whether you're going hiking or spending a lazy day in the city the Zilker will get you through it. Moreover, you can go sockless without painful blisters at the end of your day, because they have been specifically designed to prevent blisters.
If you're looking for your go-to shoe for the rest of the summer, the Zilker might just be what you're looking for.