These Are the Five Highest Rated Apple Watch Alternatives on Amazon
You don't need an iPhone and bags of cash to wear a smart watch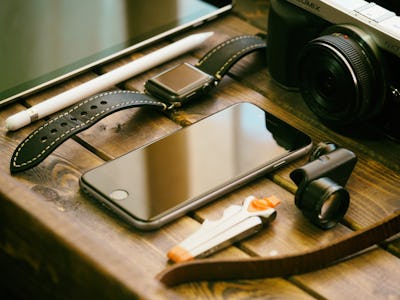 Unsplash / Aaron Burden
There is no doubt about it. The Apple Watch is slick. But what if you are over the iPhone? What if you like your Android phone? What if you just don't want to drop a chunk of your rent check on another tech accessory you might eventually hate?
There are so many alternatives to the Apple Watch that none of that is a deal breaker when it comes to getting in on the convenience of carrying your tech world on your wrist.
Some of them aren't even expensive. We found five that people love that will work with the phone you have.
Fitbit has its own operating system so it works with Apple or Android phones. And, since it has been focusing on health since before smart watches were even a thing, it's a system that has thought of everything when it comes to motivating you to live healthy.
It does all the other things a smart watch should do, too, such as alert you to texts and calls and let you pay for things and listen to music with only your watch.
This is the sort of price you'd expect a low-end watch to be and it does so much more.
This watch is the darling of the tech world right now, for good reason. It has a lot of high-end technology in it for a price that won't hurt too much.
It has a continuous heart monitor. A selection of slick watch faces. It will coach you as you swim laps, run, or workout. And you can install any Android apps that work with Google Wear on it so that you don't have to consult your phone to see whose calling, read that text, talk to Google, or much more.
It's waterproof so you won't kill it if you get stuck in the rain, wear it in the shower, or take it swimming with you.
Maybe you don't want to spend so much? Maybe you don't need so many features, either? And maybe you want to wear something smaller.
You want some fitness tracking. You want to be able to read your texts on your wrist. Well, this Gear Fit2 Fitness band is the sweet spot.
It does most everything a Gear Watch will do for anyone who doesn't want to geek out on apps but wants to stay connected to their phone. It's cheap. It's small. And it's popular so there are tons of bands available for it when you get tired of the one that comes with it.
Misfit makes a slick smart watch. And they are currently having a massive sale. So this is a lot of smart watch for the price.
It has a GPS, tracks your steps, plays music even if you don't have your phone, lets you pay with your watch using Google Pay, is swimproof, and will work with an Android or Apple phone.
The case on the Vapor2 is thinner than the Vapor and it has a built-in heart rate tracker.
If you want to cheap all the way out but still get a watch that does most things every other smart watch does? This Amazfit Bip Smartwatch by Huami is an easy way to test the wrist-connected waters without committing too much of your hard earned.
It has a heart rate monitor, GPS, and alerts you to notifications on your smart phone.