7 Great Pairs of Sunglasses for Men Under $50
You don't have to drop a lot of coin to protect your eyes, you just have to know how to shop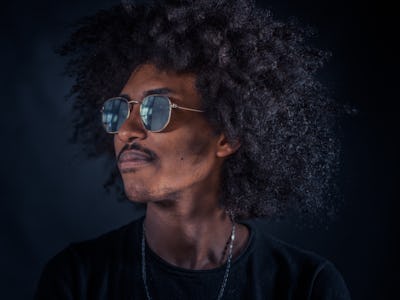 Unsplash / Gift Habeshaw
Sunglasses are that one accessory that come with an imperative. They aren't really optional. You have to wear them or your fry your optic nerve, get headaches, and damage your vision. That they look cool is just gravy—on top of their necessity.
But you don't want to intentionally buy a pair of sunglasses that don't look cool. And you don't want to spend a fortune on them, even though that's easy to do, because they are so easy to lose. And you don't want to spend a fortune on them, even though that's easy to do, because they are so easy to lose.
The wrap-around sports frame looks good on lots of men's faces. And it has a bad-ass vibe. Oakley's are expensive though—lose one pair of those, and your budget could be shot for months. These, though? Not so much.
They are polarized, wrap style, and slick looking. They come in lots of frame and lens colors so you can look through glasses that color your world the shade you like.
And you can get four pair of these—or more—for what one pair of name-brand glasses cost.
Put a pair in your car for backup. Keep some in your surf bag. Redundancy is the key to survival.
If you want to look like a cop or a flyboy, obviously you want a pair of aviators. They are flattering on every face, and they give great eye protection, which is why pilots prefer them. And really, why be a pilot if you aren't also going to be an international sex symbol?
Pilots have done all the work, anyway, of making these cool. All you have to do is buy a pair and wear them.
Or in the case of this not-name-brand, buy six pairs and stash them everywhere in your life so you are never without when you inevitably lose a pair.
They come in two sizes and many colors. That way you can get a pair that fits—and no one will know you stocked up.
Hey! The 80s called. They want their sunglasses back.
But seriously, this was such a classic that it never really went out of style. Part of the reason for that sustainable popularity is that this is just a very functional, easy-to-carry pair of glasses that looks great on.
You don't have to pay for Ray-Bans to see if this style works for you. These are polarized, look like the real deal, and are liked by almost 5K Amazon reviewers.
Carbon fiber frames, polarized lenses, and sized for larger faces. Isn't that everything you were looking for? And you thought you were going to have to pay a lot more than $32 for it, too, didn't you?
Well, you don't. Cause we found you these. They come in three color combinations. The lenses are hinged. And the frame is light and strong.
Nice polarization and a lightweight frame make for a great pair of glasses for driving. Metal hardware keeps it all together so they will last a while.
Look at the road without glare or distortion so that you arrive safe and without a headache. It's not hard. Just keep a couple of pairs of these in your car.
We love this gunmetal frame with black lenses but you get to choose the color of the lens and the frame.
Too much plastic in your life? These polarized sunglasses are crafted from sustainable bamboo. So there's very little plastic here.
They are comfy, feel warm and natural to the touch, and look great. In fact, they look like they would cost hundreds of dollars.
Also? They float. So if you are a water person, consider a pair of these. If they fall in the drink, you can dive in after them before the sea turtles catch on to sunglasses.
Sometimes you need to protect your eyes from the sun and from objects that might fly out of your lawnmower or power tools and into your eyeballs. Regular sunglasses often fail at this.
This pair has a removable foam gasket that keeps objects from flying around the glasses and into your eyes. They don't fog up when you are working outside in the heat. And they protect your eyes from the sun at the same time.
This is absolutely a pair of glasses you want for every tool box. Because how much are your eyes worth to you? And what do these cost? You do the math.