These Are the Highest Rated Sunglasses Under $30
Protect your eyes from the sun and look stylin' while doing it.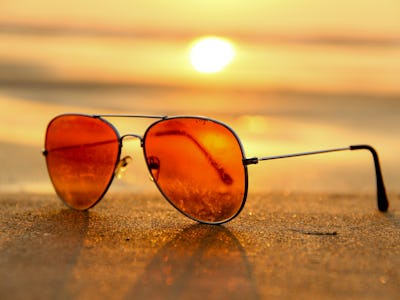 Amazon
Need a new pair of sunglasses but don't want to break the bank? Worried the cheaper options won't be nearly as stylish? Sit back, relax, and take a breather. We've got plenty of awesome-looking sunglasses to protect your eyes for less than the price of a fancy night out. Whether you love aviators or wraparounds, we've got some of the coolest options for you, thanks to Amazon's seemingly never-ending supply of glasses. Seriously, you're going to become addicted to shopping for these things.
These stylish sunglasses come in over 10 different color with UV400 non-polarized lenses that still block 100% of UVB and UVA rays. They also look super modern yet classic with an unbreakable TR90 frame that you can't simply break. Plus, they're on-trend and look much like what you'll see on Insta stars as you're scrolling through your feed.
This pair of awesome driving-style glasses look like something a pro racer might be seen wearing, and you can get the look for far less money. It comes in plenty of different colors, from grey to orange, and you can even choose from polarized and mirror-coated lenses if you so choose. More importantly, this brand helps block out UVA/UVC/UVB light while keeping colors true to life. You also get a 30-day money back guarantee.
Driving is one of the most important activities you could ever need sunglasses for. It's not easy to see when the sun shines directly into your vision, after all. That's why these cool driving glasses have everything you need to protect your vision. They come in a variety of colors and offer polarized lenses, 100% UV400 protection, and filtration for armful light. Plus, they look super sporty, wouldn't you agree?
These polarized lenses have similar thickness to the kind you'd find on higher-priced eyewear, but you're getting them on the cheap. They're also lightweight, durable, and come rocking a 34-day money back guarantee. If you have a history of dropping sunglasses and destroying them, worry not—they're also impact-resistant. What's more, they're built to be flexible and tough, just in case you get up to some wild shenanigans while wearing them.
If you're a big Top Gun fan, you probably already own a good pair of aviators. If not, check these bad boys out. They're polarized, come in a variety of different colors, and feature elastic and skin-friendly nose pads on the bridge that won't break you out. They're made with a lightweight metallic alloy as well, so they should be able to take whatever you dish out. Most importantly, they look cool, and that's usually all that matters, right?