Streaming Services That Are Cooler Than Apple TV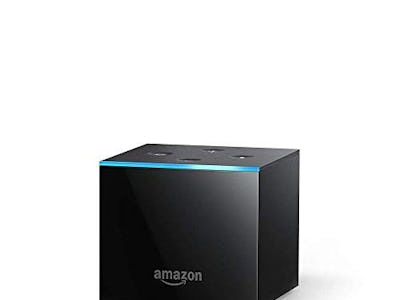 Amazon
Oh, Apple, the legendary minimalist tech company that has reshaped society as we know it. Is there a facet of life you can't dominate? I'll admit: I didn't fully get what Apple TV was when it launched, and prior to this article, I didn't care. But when I did my homework, I quickly learned not all streaming players are created equal. Some are better, some are worse, some are crazy expensive, and some are actually affordable. The thing about Apple TV is that it is an entertainment device that can receive digital data such as music, video, or the screen display only from an Apple device like a Mac or iOS machine. It then streams that data to a television set or other video display. The Apple TV ranges from $149-$199, depending on whether you go for the 32GB or 64GB option.
So I went digging for a couple competitors, and found some pretty impressive contenders. These are a bit lower maintenance and still offer the same awesome streaming content, like Hulu and Netflix, and for a much friendlier price.
Able to sync with the almighty Alexa, Fire TV Cube lets you control compatible TVs, soundbars, and A/V receivers from popular brands like Samsung, Sony, LG, Vizio, and more. From across the room, you can ask Alexa to turn on the TV, dim the lights, and play what you want to watch. It is armed with far-field voice recognition, eight microphones, and beamforming technology, so the Fire TV Cube can you from any direction. You can also vocally control features like content-search, play, pause, fast forward, and more. It has a built-in speaker that lets you check the weather, listen to the news, control compatible smart home devices, and so much more. Plus it learns new skills with each Alexa upgrade, so what are you waiting for? It's an investment.
One of the best-priced options out there, the Roku Express gives you a smooth HD streaming experience. It's easy to install; just plug it into your TV with the included high-speed HDMI cable, connect to the Internet, and start streaming. Use the remote to search for your favorite shows and discover channels and have access to 500, 000+ movies and TV episodes, including blockbusters, award-winning original Series, kids' shows, live network TV, and more. Oh, and it has an app for all the convenience. Enjoy!
So remember the Fire Box we suggested? This is pretty much that in a remote form. The Fire TV Stick, one of the top-selling streaming media players, has the same Alexa Voice capabilities, but in the form of a remote. Make sense? Use the dedicated power, volume, and mute buttons to control your TV, soundbar, and receiver. Watch favorites from Netflix, YouTube, Prime Video, STARZ, SHOWTIME, or CBS All Access, plus stream for free with Pluto TV, IMDb TV, and other, plus apps and games to play. Alexa on Fire TV provides the most comprehensive voice experience of any streaming media player—view live camera feeds, check the weather, dim the lights, and stream music.