These Pet Supplies Are a Must Have for Pet Owners
If you have pets, you need these essential and affordable tools to make your life easier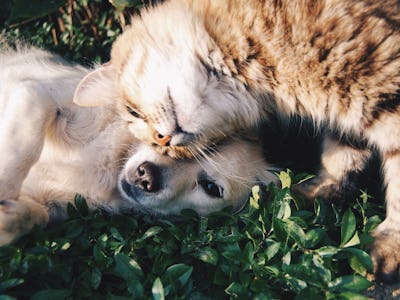 Unsplash / Krista Mangulsone
When you brought your pet home, it was because you adored her. And she, of course, adores you. But living with someone who can't clean up after herself, feed herself, or remember that she leaves fur everywhere she goes has its challenges.
For those challenges, you need the right tools. You don't want to drop a fortune on those tools, even if you are willing to drop a fortune on cute outfits or toys for your furry flatmate.
We get you. We scoured Amazon for the essential. The affordable essentials. These tools will help you and your adorable roomy get along like besties.
Stop struggling with that bag of cat food and dog kibble. You need a storage system that keeps the food dry and safe from bugs, lets you get at it, and doesn't take up your whole kitchen.
This is it. It wheels away into a corner when you don't need. The IRIS 3-Piece Airtight Pet Food Container Combo pulls easily out when you do need it. It holds an entire bag of dog kibble. A smaller container stacks on top for the cat food or dog treats. It opens and closes easily. It looks pretty good. And a big scoop is included.
It also doesn't cost a fortune so you can have it now instead of at some point in the future when you will suddenly be affluent.
You don't want to get the vacuum cleaner out. Ever. But there is all that pet fur. And people are on the way over. Run this around all your surfaces: hardwood, carpets, furniture. It grabs the fur quickly and quietly. And it's easy to get out and put away.
Then just rinse it off or throw away the fur. No more fur on your guests' pants when they sit down. No more clouds of fur in the corners.
It will help you get along with your dog, too, because he doesn't like the vacuum cleaner any more than you do.
You took your pup to the park and she rolled in something….dead. Now what? You have to ride home in the car together. Your car that you haven't finished paying for and have to drive to work everyday.
Install one of these in the back seat and relax. It won't do anything about the smell you have to ride home with right now but it will protect your upholstery from whatever that was. And you can pull it off and throw it in the wash once you get the dog cleaned. And then your car will be fine again.
And when humans want to ride back there, you can remove it and store it away. The seat underneath will be clean.
It's waterproof so no matter how wet that thing she rolled in was, it won't get through this to seep into your back seat.
Get rid of the cardboard boxes. This will look much better in your house and cats love these as much as they do boxes. They are cozy. They're made from wool. So kitty will stay warm in there. And she will feel safe. Kitty's look adorable peeking out of these. And, even when Kitty isn't in it, it looks nice, like something you want in your home as opposed to an empty cardboard box.
Make your dog walks go a little smoother with this double-handled lead. When you need control, use the short leash. When the traffic is behind you, give your pooch a bit more room to sniff.
The handles are both padded so you don't end up with trashed hands. And the whole thing is reflective so your walk is a bit safer, too.
Some dogs will drink from a water bottle… others need more help. This is for the special dogs that just can't seem to grasp get the concept of drinking from bottles or fountains.
It's two collapsible 34 ounce bowls so your pup can have her own dishes when you hike or camp. They clip to your pack — or hers. And will hold plenty of water and food for her.