5 Essential Products for Home Automation
Futureproof your home with these devices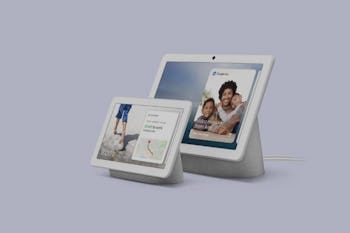 Google
In order to create the home of the future, you're going to need devices that can do things for you. While you're not going to see the Jetsenns' Rosie any time soon, there are a handful of devices that can do your bidding with a simple tap or voice command. If you're looking for the best smart home automation products around, check out our list below.
The easy route is to say that Amazon's Echo should be your first choice, but since we're talking about smart products, we're going to go with Google's Nest Hub. Not only is it easier to talk to, it actually sounds a lot smarter than talking to an Echo. It feels like Alexa still has her training wheels, despite being older and capable of more integrations than Google's Nest or Home lineup.
The Google Nest Hub is simple in its execution, in that it's a smart speaker with a 7-inch touchscreen. It's void of a camera, so you don't have to worry about anyone taking a peek at your while you sleep. Google will soon offer a Next Hub Max, which ships with a larger screen and with cameras, but for now, the regular option will have to do.
Like other smart speakers, the Nest Hub can be your hub for all of your smart appliances. You can control them from your voice or from the touch display.
While we're on the subject of Nest, the next item on the list is the Nest Learning Thermostat. While there's a lot of competition out there, the Nest's signature "learning" feature that will adjust your thermostat without command is just a part of the future we're looking for.
Another thing to note is that because the Nest has been around for as long as it has (even this generation's model), you'll also likely always find it on sale to some extent. You'll also find it in a variety of finishes to fit your own home's style.
There's almost no other smart home item as satisfying as smart lights. Once you're used to controlling your lights through the companion app or through a smart assistant like Google Home or Alexa, the idea of even touching a light switch seems archaic—although you'll still have to at "non-smart" locations.
If you're willing to spend the dough on them, the Philips Hue Smart Lights are the way to go. Yes, it's true that there are other options out there that are both brighter and more colorful, but what the Hue Lights do, they do right. There's also little competition when it comes to ecosystem. Philips has smart lighting available for indoors, outdoors, and pretty much an option for anything in between.
If smart lights are the most satisfying of the smart items you can buy, then smart plugs are certainly the most boring. Nonetheless, the small WiFi plugs can bring life to your dumb gadgets, and it's something that can come in handy.
The Wemo Smart Plug Mini is one of the most popular options around. They're short and wide so you can stack multiple plugs on top of each other. As one could imagine, these plugs can turn on or off with your phone or smart assistant of your choice.
If you're really trying to smarten up your not so humble abode, then a smart lock is in order. With almost zero competition in the space, August is your go-to smart lock option. Easily create digital keys for yourself and others, and even give the keys expiration dates. The companion application also allows you to monitor all activity, so you know who's coming and going at any time. You can easily install it over your existing deadbolt lock, which means you can still use your old keys with it if you need to.