Amazing 54-Propellor 'Swarm' Super-Drone Is the Future of Personal Aviation
It can support a takeoff weight of 362 pounds and a heart filled with joy.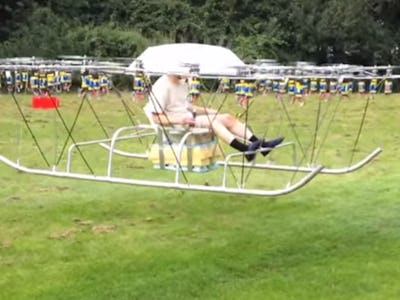 YouTube
UPI reports that a British aviator has rigged up a 54-propellor "super-drone" called the Swarm that HOLY SHIT LOOK AT THIS THING!! IT'S OFF THE GROUND AND DIVE BOMBING SHIT ALL NNEEEAOOOWWWWWWWWWWWW AND YOU COULD PUT SWEET ANTI-AIRCRAFT GUNS ALL RATATATATATATATATATTTATAT BOOOOMMMMMMMM!!!!!!!!!!! FUCK YEAH, SWARM BITCHES.
Tl;dr, Up is due for a sequel.