The Best Dating App Is U-Haul's: Move to Another City
Tinder didn't invent 'hook-up culture,' math did.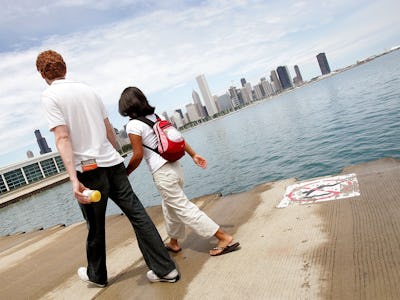 Getty Images
When I graduated from college a decade ago, we were coming off a lot of talk from our parents and their peers about a "hook-up culture." They didn't do binge-drinking-fueled one-night stands; they went on dates to dances and such. Surely some of that was bullshit — I'm sure smoking weed made you sleepy, so you didn't really like it, Mom — but some of it was true, too. Why? It's a numbers game.
My parents went to college in the '70s, when more men than women were enrolled in American universities. So, women were in demand and, thus, dictated the rules of the dating game. Now, the script has been flipped and, from the halls of universities into the job force, college-educated women are the significant majority. As Jon Birger writes in The Washington Post, the numbers are skewed to the advantage of men. And guess what men do? Shitty stuff like playing the field, not calling you back, and leaving out of the fire escape when you go to wash your face in the bathroom. The hook-up culture hasn't been created by technology like Tinder. It's been created by asshole guys.
Birger's piece is largely responding to a Vanity Fair article that predicts the Tinder-fueled "Dating Apocalypse." (The Fortune contributor has also written a larger tome on the subject, DATE-ONOMICS: How Dating Became a Lopsided Numbers Game.) Some of the numbers are astounding. Here's a bit:
According to data from the Census Bureau's American Community Survey, there are now 5.5 million college-educated women in the United States between the ages of 22 and 29 vs. 4.1 million such men. In other words, the dating pool for straight, millennial, college graduates has four women for every three men.
So, it's a real take yer pick situation for the college-educated fella out there. And, what's worse: As mates pair off into marriage, the ladies left see their numbers decrease even more. (Lest us not forget our LGBT friends, who are unaffected by male-female ratios, but who have, as Birger points out, advantages in some cities over others. New York, for instance, doesn't have a great lesbian dating scene — at least numerically speaking.)
What's a gal to do, then? There are a couple of options.
Move.
As Birger writes, "DATE-ONOMICS illustrates that Manhattan's hetero, college-grad, under-30 dating pool has three women for every two men." I can back this figure up, anecdotally, as just this past Saturday I sat at South Street Seaport in Lower Manhattan as a single buddy of mine detailed his recent Don Juan de Brooklyn exploits. Heading West is the de facto solution — Birger points to tech-driven Santa Clara County — and I can say that we don't call my hometown Menver, Colorado for nothin'. Here's a handy map for the basic idea:
Think Outside the Box.
The map above doesn't just take into account college grads, and maybe people shouldn't either. See, many students with a diploma in hand might not seek a mate who fits into the blue-collar demographic. Women in Northeastern cities who are struggling to find a cool guy would be wise to consider the option; same goes for guys in California. As Birger puts it, "Indeed, there are 1.5 million more non-college-educated men than women among Americans age 22 to 29. Bottom line: New York City women looking for a match would be better off, statistically at least, at a fireman's bar in Staten Island than a wine bar on the Upper East Side."
And, surely, the power can be in your court again, ladies. For it is you who ultimately dictates how touchy you're gonna let us get / where we are going to live / what job I should do / how many kids we have / the color of the paint for the family room / how many whiskeys I can have when Paul comes over. Tinder is stupid, math rules: You'll figure it out. You have more college graduates than us, after all.