Up Your Social Media Game With the Insta360 Nano S
Take Professional-Grade Photos and Videos With Your iPhone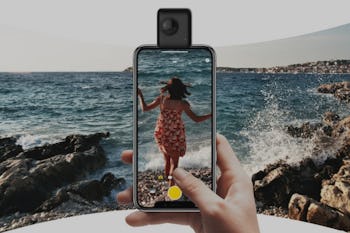 Insta360
Pictures and video have become the main way we communicate as a society. So it makes sense that you want to post the most stunning images possible. As you probably already know, having cutting edge footage makes all the difference in the way people perceive you. Regardless if you're spending a day at the beach or watching your children's faces brighten up at an amusement park, the camera you use counts. If you're an iPhone user and want to post next level 360 images for friends, family, orfollowers, there's only one camera out there you should use: the Insta360 Nano S.
The Insta360 Nano S not only takes brilliant photos and videos, but it also does it with one of the smallest adaptable 360 cameras out there. It's perfectly portable in its size and weight, so it's tiny enough that it can be tucked away in the palm of your hand and light enough that it won't weigh down your phone while in use. In fact, its sleek design makes attaching it to your phone and using it a breeze. Once, it's attached, you'll have morphed your iPhone into a brilliant 360 camera with multiview which allows you to record in every direction, and arrange the best of what you see in one frame. It's perfect for live streaming, video chat, and blowing up Instagram. And with the Nano S's streamlined sharing, you can push your photos and videos onto social media with ease.
Insta360 Nano S Photographs
The Insta360 Nano S camera captures images with a resolution of 6272 x 3136 pixels. Your 360 photos will shine because the Nano S is designed with social media in mind. The photos this camera takes are best viewed on other mobile device screens like smartphones and tablets. Keeping this in mind, the photos snapped on the Nano S are consistently vivid, clear and sharp, especially when they're taken outdoors. Plus, FreeCapture is one of Nano S's best new features. With it, you'll be able to snap the perfect photo in one take, and capture the world around you as you want it to be. By giving you the ability to perfectly frame your shots, FreeCapture puts you in the director chair of your life.
Insta360 Nano S Video
When it comes to taking 360 videos, the Insta360 Nano S revolutionizes 360 videos. It's perfect for posting buttery-smooth videos on Facebook or Instagram. This is thanks to its real-time stabilization. You know that ultra-precise gyroscope hidden deep within your iPhone? Well, the Nano S uses it to counteract every wobble and shake, leaving you with footage you could only dream of. Plus, with the addition of 360 Video Chat, you can bring along the people who matter wherever you go. That's because the all-new 360 Video Chat allows you to share an immersive, real-time video of the world you're living in. This means, your sick BFF can truly experience everything you are, even though she's stuck at home in bed. But that's not all, the Nano S camera has VR playback, so you can create your own VR content.
With the Insta360 Nano S, you're investing in the brilliance of your social media presence. Followers will delight in your crisp, clear 360 photos and video. Shoot 4K 360 Video whenever, wherever with the Insta360. It's not just that your photos and video will improve. It's that your memories will, as well.