Update Your Mattress Right Now With One of the These Incredible Companies
How did you sleep? Yeah... so maybe you need one of these amazing mattresses?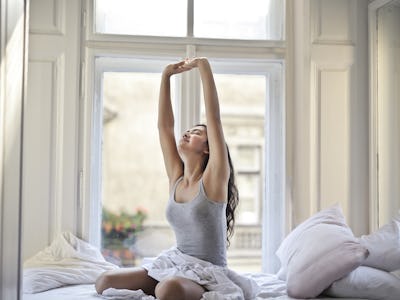 Unsplash / bruce mars
How did you sleep last night? Did you toss and turn? Wake up sweating? Wake up at 3 am and find it impossible to get back to sleep? Was it impossible to get comfortable? Was your body stiff and filled with danger zones of sore spots, stiff parts, and aches and pains when you got up this morning?
And now? You had to drag yourself out of bed and face another day where your brain is like a soggy piece of paper and your body is complaining about everything.
Sleep is the key to everything from work efficiency to mood to weight loss. If you are having trouble with any of those, look at how much sleep you are getting.
And if you are putting in the time but failing to acquire the rest, take a look at your mattress.
Maybe you know all this but don't feel like you can afford to replace your bed> Think again. Because here are some innovative companies with a plan to improve your rest. And they are all offering deals and financing offers you simply can't turn down.
The Nectar mattress is a great combination of soft and firm, all designed so you get the support your back needs and the softness your mind craves to forget about trying to get comfortable and just sleep.
That top layer is made of Tencel and is designed to keep you cool. Your body temperature rises when you fall asleep so it's easier to achieve sleep when your bed isn't too hot.
The second layer is quilted memory foam so that you don't feel the bed as 'hard." This helps you feel comfortable, a luxurious soft comfort, so your brain stands down and lets you sleep.
The third layer is gel memory foam, which offers a firmer support but distributes your weight so you don't toss and turn. You hit no hard spots so you don't need to move to find relief from them.
The bottom two layers give you firm support because sinking into a soft mattress causes back pain the next day.
Ready for some super luxurious sleep? Then you have to meet the Dream Cloud mattress. This is also a layered, memory foam mattress. But check out what's in those layers!
There are eight layers. The top one is a hand-tufted tufted cashmere blend. Soft! Breathable! Delicious!
Next comes the gel-infused memory foam and quilted memory foam layers to distribute your weight and give you the feeling of softness your brain wants to let you fall easily fall asleep.
Then there are two layers of firm memory foam to give your back the support it needs. And below that are the encased coils and another layer of memory foam that gives this mattress amazing back support and stops motion distribution so when your bed mate gets up or squirms, you won't feel it.
There is currently a $200 off sale going on for this mattress. Go get it!
The Level Sleep mattress is a layered memory foam mattress that's divided into zones that follow the contours of your body.
It's soft around your shoulders to eliminate the pain of trying to get that shoulder flat.
It gets firmer around the middle of your back because this is where you will develop pain if you sleep on a bed that's too soft.
Then is eases up a little on your hips, letting them sink in a bit and keep your spine straight.
It doesn't matter what position you sleep in, this mattress supports your back while eliminating hip and shoulder pressure so that your brain can turn off without causing your body to develop pressure induced aches and pains.